Papa Vinyard here, now here's a little somethin' for ya...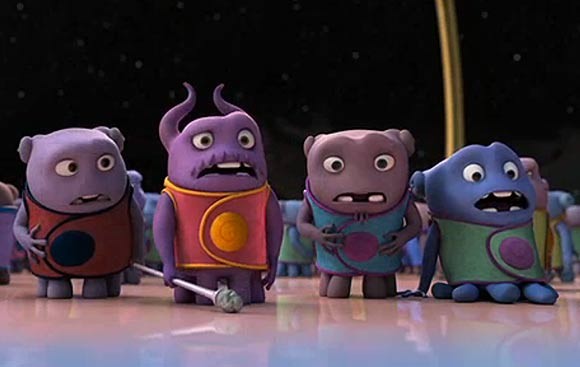 About 8 months ahead of its November release, and we have our first look at Dreamworks' HOME, based on Adam Rex's book The True Meaning of Smekday, via this short film. Appropriately titled ALMOST HOME, this shows our central character, the extraterrestrial Smek, as he leads his race of Boovs to colonize a hospitable planet, away from their "enemies." After his first choices are plagued with indigenous predators, absurdly unaccomodating weather conditions, and even killer robots (that look straight out of a George Pal movie), he ends up settling on the world that will serve as the stage for the feature film: Earth.
Fox has always made more of an impression with their Scrat-centric short films in advance of the ICE AGE movies than with the films themselves, so I think it was a smart move for Dreamworks to announce this project with this 4-minute look rather than a brief, gag-heavy teaser. Not only do we get a chance to sympathize with these invading aliens before they pose a threat to humanity, but we get some time with Steve Martin's cocky Smek. Martin hasn't played a character this madcap and showy since maybe BOWFINGER (don't mention those PINK PANTHERS to me please, unless you want to go back and forth mispronouncing "hamburger"), and it's fun hearing the 67-year-old actor in such a lively, dare-I-say animated mode.
We don't hear any of the other voice actors, including Jennifer Lopez, Jim Parsons, and Rihanna, but the animation, the sci-fi humor, and Martin's vocal antics are enough to get me interested in what Dreamworks (and ANTZ co-director Tim Johnson) have up their sleeve.
Is this looking like MONSTERS VS. ALIENS, PLANET 51, or ESCAPE FROM PLANET EARTH to you guys, or something more striking, clever, and funny?
HOME is where the hatred is on November 26th.
-Vincent Zahedi
"Papa Vinyard"
vincentzahedi@gmail.com
Follow Me On Twitter