Papa Vinyard here, now here's a little somethin' for ya...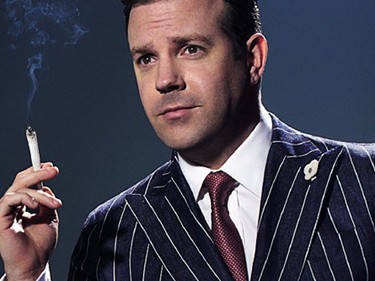 Jesus, I feel like they've been trying to get FLETCH WON off the ground since before I hit puberty. After Kevin Smith tried for years to get the film off the ground with Jason Lee in the lead, and later, Ben Affleck and Zach Braff, I kind of thought that Gregory Mcdonald's follow-up to FLETCH would never receive the big-screen treatment. The character from the books has been all but usurped by Chevy Chase's incarnation of the role in terms of pop culture popularity, so going back to the well and making a more faithful adaptation of the FLETCH series seemed less and less likely.
Well, there seems to still be some interest in this long-gestating project, and it seems they have a new Fletch to build their reboot around. Last night, The Hollywood Reporter announced that HORRIBLE BOSSES/WE'RE THE MILLERS' SNL alum Jason Sudeikis will be playing a younger version of the crack reporter in FLETCH WON. He signed on based on a script by SOUTH PARK/TEAM AMERICA: WORLD POLICE crewmember David List, which presumably is closer to Mcdonald's original than Chevy and Michael Ritchie's FLETCH (or, certainly, FLETCH LIVES).
While I'll forever lament Smith's failure to get the film going with Jason Lee as Irwin Fletcher, Sudeikis seems like a solid choice. With his easygoing, lackadaisical attitude mixed with a habit of lying through a smile, this isn't the first time he's been compared to Chase, and he should slip into his basketball shoes just fine.
No word on who'll be directing FLETCH WON yet, but the producers are "hoping to exude a BEVERLY HILLS COP or MIDNIGHT RUN vibe." Which I hope means that they're planning to bring Harold Faltermeyer back.
What do you guys think? Can Sudeikis pull off FLETCH in a way that makes us forget Chase's mid-'80s interpretation, or is his smarmy charm wearing thin?
-Vincent Zahedi
"Papa Vinyard"
vincentzahedi@gmail.com
Follow Me On Twitter