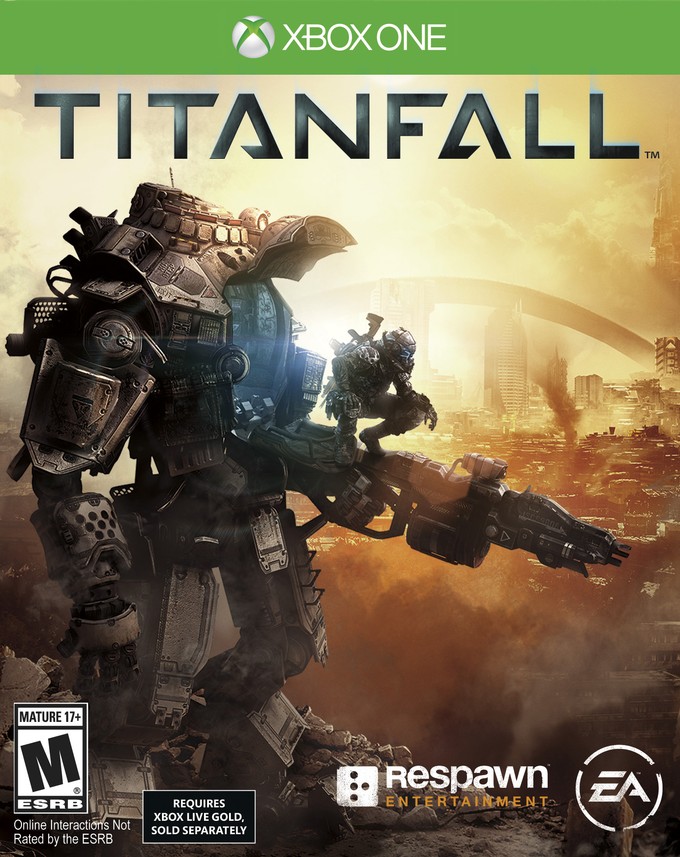 We've discussed its recent beta test here on the site today already, but I just wanted to post a quick reminder that the full version of TITANFALL arrives today for the XBOX ONE and PC - the XBOX 360 version hits March 25. It is far from perfect, but it's one helluva game.
Players seeking any particular sense of narrative structure or drive won't find much here: the game's (optional) campaign mode offers a vague attempt to stitch together the madness of what's on-screen into a semblance of plot, but at the end of the day, the effort really doesn't amount to much - as the glory of TITANFALL lies not in its story, but in its unapologetic, balls-to-the-wall, exhilaratingly furious gameplay.
PREDATOR-like cloaking screens, ROBOCOP and RUNAWAY auto-targeting smart guns, jump packs, and the ability to more or less parkour around, up, and over any ascendable surface on the map define the player's 'on the ground experience.' Enormous 'Titan' exoskeleton battle platforms, featuring a variety of pre-set or customizable load-outs…ultimately allows players to power through massive maps, smiting opponents and clashing brutally with enemy Titans. Gifted players can scurry up an adversary's Titan and sabotage it - like something Luke Skywalker could do. I've yet to successfully accomplish this myself, but someday it'll happen.
Respawn time is blazing fast - death doesn't feel like a penalty here, instead it's more of an inconvenient obstacle. Every map is complex, sprawling, nuanced and beautiful, all evoking the very best aesthetic of folks like James Cameron, Ridley Scott, and Joe Kosinski - while also managing to remain not only distinctive, but invariably beautiful (note the enormous, CLOVERFIELD-like creatures which hover on the horizon of one map).
As mentioned above, the game is not perfect - there are a number of little tweaks which would transform a good game into a great one (the inability for players to vote on which map they'll be dropped into seems conspicuous, for example, as do several other oversights of a similar nature). This said, what is there…and what does work…unfolds incredibly well and with startling variety. I've been in…I dunno…a hundred matches? More? And I've never sensed repetition yet. The speed of the game, and the breadth of potentials than can unfold whiting the average match experience, simply overshadow the redundancy often found in multiplayer shooters.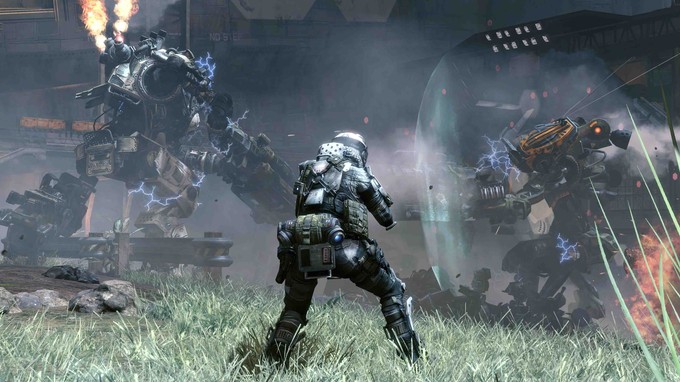 As a multiplayer shooter? This one's pretty special. As a Geektastic dork-out, it's phenomenal. This is the stuff action and science fiction nerds like me grew up on and dreamed about for years, and it is easily the finest game yet released for the XBOX ONE. TITANFALL will without a doubt be considered a milestone for the year in review, and beyond.
Is it good enough to entice folks who've thus fare shied from XBO to finally jump for the system? I don't know…but it just might be. Personally, if I saw this game and didn't have an XBO - it would be enough to convince me to take the plunge. All other technical and design considerations aside, it's a shitload of fun. Period. And at the end of the day, isn't that the highest praise one can pay any game?
Here's a brief press release regarding the game's arrival...
March 11, 2014

Your Titan is Now Ready - Respawn Entertainment and EA Launch Titanfall Today

The Most Anticipated Video Game of 2014 is Available Now in North America Exclusively for Xbox One and PC

Watch the Official Titanfall Launch Trailer Here

VAN NUYS, Calif.--(BUSINESS WIRE)-- Electronic Arts Inc. (NASDAQ: EA) and independent videogame developer Respawn Entertainment announced that Titanfall™ is now available at retail stores across North America exclusively for Xbox One®, the all-in-one entertainment system from Microsoft and on Origin.com for PC. Since its unveiling last June, Titanfallhas seized the attention of gamers around the world with its exhilarating first-person action gameplay centered on the dynamic between elite assault pilots and agile, heavily-armored, 24-foot titans. The game has been praised by critics and fans for delivering a unique, fun and thrilling experience while setting a new bar for online multiplayer gameplay. GameSpot claims "Titanfall is a leap forward for shooters", while Rolling Stone calls Titanfall "the most anticipated next-generation videogame of the year".

"Creating Titanfall has really been an incredible journey for our team at Respawn and we're excited to be able to finally get the game we've been making into everyone's hands," said Vince Zampella, a Co-Creator of CALL OF DUTY and Co-Founder of Respawn Entertainment. "We're a small, tight-knit team, and I'm proud to have come together with them over these last few years to create something that we think pushes the boundaries and is above all else fun."

"Titanfall is the result of an amazing partnership between Respawn Entertainment, the Xbox team at Microsoft and EA," said Patrick Soderlund, Executive Vice President, EA Studios. "Combining the talent and vision of the developers at Respawn with the power of Microsoft's Xbox Cloud Compute infrastructure and EA's global publishing reach, Titanfall is going to deliver a truly incredible new experience to gamers."

"At Xbox we have a long history of bringing blockbuster multiplayer games to our fans that have redefined what it means to play games with friends and others around the world," said Yusuf Mehdi, Chief Marketing and Strategy Officer, Devices and Studios at Microsoft. "Leveraging the power of Xbox One and in close collaboration with our partners at Respawn Entertainment and Electronic Arts, Titanfall is poised to be one of those breakthrough games that ignites the potential of this generation."

Set in the near future on a distant frontier torn apart by war, Titanfall drops players in the middle of a conflict between the Interstellar Manufacturing Corporation (IMC) and the Militia. The action is rapid and varied - featuring parkour-style wall running, massive double jumps and the ability to hijack titans. The freedom to shift back and forth between pilot and titan allows players to change tactics on the fly, attacking or escaping depending on the situation and extending the action vertically to new heights.

Titanfall will be available on Xbox One and PC in Europe beginning March 13, 2014 and in the UK on March 14, 2014. The Xbox 360 version, developed by Bluepoint Games, will be available beginning March 25, 2014. For gamers looking to extend the fight on the Frontier, the Titanfall Season Pass will deliver three content packs as soon as they become available. The Titanfall Season Pass is available at a one-time price of $24.99 and can now be purchased for the Xbox One here and on Origin for PC here. The Titanfall Season Pass for Xbox 360 will be available starting March 25. For more information on the game, please visit www.titanfall.com. Join the conversation on Twitter® at www.twitter.com/titanfallgame and #Titanfall, or on Facebook® at www.facebook.com/titanfallgame.
—————-
Glen Oliver
"Merrick"
- e-mail
- Twitter