So the day began at 6am San Jose, California time after 5 hours of sleep after partying about the Award that Cinequest gave me for being me for the last 18 years of AICN… I had half a sandwich, picked up from the airport by Father Geek, then whisked to the Convention center to pick up my SXSW badge, then rush to the Paramount Theatre for the opening night SXSW premiere of Jon Favreau's first Indie film since MADE.
In the interest of full disclosure… I became friendly with Jon after hosting a premiere of MADE, his first feature film as a director… then ZATHURA played at the first FANTASTIC FEST for its premiere… then I was producing his adaptation of JOHN CARTER OF MARS, which would've been truly tremendous… But the studio was blind… and Jon went on to do IRON MAN, which I knew was the perfect decision for him… and it was. We did events for that and IRON MAN 2, he brought a significant sequence of COWBOYS & ALIENS – and his agent and my agent are the same.
We're not like best buddies by any stretch of the imagination. In fact, when I got on the plane headed back to Austin, my mind wasn't upon SXSW… I wanted to blow Day 1 away and just strap 3D goggles and be mind fucked by 300: RISE OF THE EMPIRE in 3D, but I got word that my presence was expected at CHEF's premiere. I had wanted to grab something to eat before attending, but conversations during Badge pick-up stretched, and… I was sucked into the joyful world of discovery that is SXSW.
Father Geek and I had front row seats at the fabulous Paramount Theater. The stage that hosted Marx Brothers stage shows and Katherine Hepburn performing a play. But tonight, it was Jon Favreau's CHEF. His first personal screenplay since MADE. And while I've enjoyed his enormous budget career explosion… and in particular, he really did teach Marvel how to be fucking awesome… but if you saw MADE and his screenwriting on SWINGERS… there was something about those projects that came completely from his mind that I loved, even over the geeky shit that I just don't know how to resist.
CHEF was partly shot in Austin, but I wasn't apart of any of that – and I really hoped it was going to be a special film, but didn't really know any details.
THIS IS THE TYPE OF FILM THAT I WOULD LOVE IF FAVREAU COULD MAKE TIME AND TIME AGAIN!
Why?
I think there's a good deal of folks, that after his tour on IRON MAN, get the Marvel aesthetic… but there are very few directors indeed that can make films like CHEF.
So, what the hell is this movie.
At one level it's about the titular CHEF, who is played by Jon Favreau. He's a professional chef that got his start in Miami with culinary delights that invigorated and dazzled the food critics that devoured his plates, but he was hired by a restauranteur in Los Angeles, played by Dustin Hoffman, that had become set upon the long traditional menu of the restaurant. When a noted Internet Food Critic is set to review the food, Favreau's chef see's this as an opportunity to creatively express everything he knows about food. He's going to create a completely dazziling, eyes rolling into the back of your head, culinary masterpiece… But Hoffman, who owns the restaurant… feels that if you're going to do anything, lead with the successes that established you. So it is the menu for the past 10 years of his professional career.
While all of this is going on, you learn that Favreau's Chef has divorced Sofia Vergara – and that he has a son named Percy, played by the very promising and talented Emjay Anthony – who misses just hanging out with Dad. Like many fathers in divorce that see the finite time they have with their kids, they fill them with the artificial experiences of theme parks and movies – when what a child really and truly longs for – which is personal time.
I know this. I'm an adult that came from divorce – and my father filled that time with all sorts of events, but even now as a 42 year old man. It isn't Six Flags and the multiplex memories that I cling to… it's working alongside my father in conventions. Pricing thousands of comic books and having him explaining their significance – and then learning from him the breadth of knowledge that he imparted upon me. It was BBQ-ing in the backyard and throwing hatchets into the tree of woe in his back yard. It was the tearful goodbyes and the tearful moments that brought us back together that I remember. The conversations as he worked at a headshop to get the money to get me, while I described AMAZING STORIES episodes that he couldn't watch that I remember. It was cooking Eggs, Potatoes and Onions for breakfast and learning how to make spaghetti from him that I remember. Or as he taught me how to dramatically perform prose from Edgar Allan Poe for competition – or when he explained that the most important skill for the future that I could learn would be communication… which has served me ever since.
Besides a man entering the middle of his life, divorced… jobless… feeling more and more a failure in life. Favreau's character of Chef Carl Casper... as he's drawn into a professional public battle with the noted blogger of THE DIGITAL PLATE… he's outfoxed, he lost his cool, fired, humiliated. Embarrassed in front of his son, in his eyes. He doesn't know what to do.
His wife offers to let him be… THE NANNY… on a trip to Miami with her and their son, he takes it. He can feel the separation with his kid beginning, and he'd do anything to cement that relationship… but still, he's adrift.
In Hell's Kitchen in Miami, he's drawn back to his culinary roots. Sofia's ex-wife still cares for him, especially because she can see what Jon means to their son. So she sets Favs into a meeting with her ex-husband played by… ROBERT DOWNEY JR – awesomely eclectic, hilariously out there… he sets Jon up with a shitty rundown food truck to recreate his image – and when Sofia drops their son off and disappears… the day of hard work fixing the truck, cleaning it, outfitting it with new equipment… it draws them together – and Favreau learns the joy of making his son an apprentice.
I can not express enough how much this kind of relationship resonated with me. Dad groomed me to be in fandom. The internet wasn't in his mind, but he could see the joy I had just being a geek with him. Film became our language, our secret speech. I shared it with everyone I knew – and they were dazzled by what my father taught me and I saw the status it placed me in their eyes.
Once the truck is operating – and John Leguizamo is working with them… and they're cooking first for the workers that assisted them with loading the truck up… then going to South Beach, New Orleans and later my own beloved Austin… well, his kid is along for the trip. He's on summer break, his mom agrees… and it is a dazzling experience. Road trips with your parents where you're a part of their business and you can take pride in your part of it. It means everything. Seriously.
On the otherside of this film… beyond the father son story – is a visual culinary experience. Like the great foodie films like THE BIG NIGHT, WHO'S KILLING THE GREAT CHEFS OF EUROPE or LE GRANDE BUFFET… watching this film on an empty husk of a tummy… your stomach will scream at you. Your mouth will long for what you see on screen.
By the time he's created a sandwich called AUSTIN MIDNIGHT, which uses Franklin's Brisket… the finest meat I've ever sucked down in my life… instead of pork… as the meat for his Cubanos… my brain, food memory and empathy for the substance I was looking at onscreen… well… the shit was literally killing me.
There's more awesome people in this than I feel like spoiling, but the real stars… it's the food. I could sympathetically taste and smell it all. It was… the stuff meals are made of. Meals you never forget.
More than anything though, the heart and soul of this film are in the eyes of Favs and Emjay. Their father son dynamic is so blessedly honest, tangible and real – that not loving them is unfathomable to me. This is a great film from Jon. The best of his career. Sure it hasn't IRON MAN flying about, but when you watch him cook – if you know anything of food – you know this shit would make your eyes twist back and watch the electrical impulses tickling your neural noodles into ecstasy.
After the Q&A on stage, Jon announced that the EL JEFE food truck from the film would be at Austin's MOHAWK for the afterparty with Gary Clark Jr playing… but more importantly, the Cubanos on screen would be shoved down your gullet.
As this was announced, ¾'s of the audience instantly began fleeing the Paramount theater to rush to MOHAWK to experience this delicious delicacy… I had to take a leak – and being handicap, I had to rush to the nearest accessible bathroom – where a man with a BAG – that had a PIZZA BOX, entered the only handicap stall within a mile of my location – and ate and shat for 30 minutes. All while I imagined 1200 Paramount attendees consuming the whole of the EL JEFE's cubanos… I was dying.
Luckily, when Father Geek dropped me off – I finally was able to consume this sweet succulent delicacy straight from the emulsion projected upon the screen and into the dark pit of my tummy. The chef in charge of the food truck is a pal – and when he saw me he asked about the film – and while I was enjoying the Cubano, I mentioned the AUSTIN MIDNIGHT Cubano of the film with the sacred love joy of Franklin's Brisket as a base – and this FoodGod says… "COMING RIGHT UP HARRY!" – No sooner is this Golden Fleece of food placed upon my paw, than Favreau runs out of his own party to enjoy. We took this picture… and then, I realized.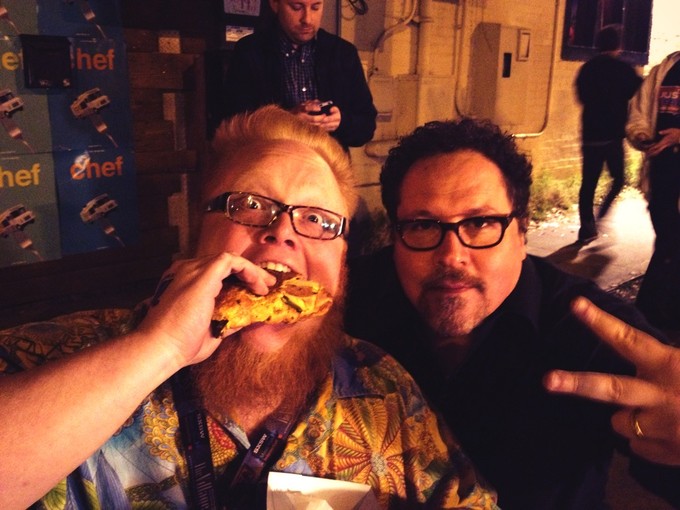 I don't want to schmooze… I miss my friends, so we went out drinking and living up life. Some blonde came up to me and asked if she could kiss me, 4 Jack & cokes led me to agree. My wife laughs. My friends dance. And a new friend enters my life.
This is day one of SXSW. It already fucking owns! I wish you were here – but at the very least, discover CHEF, it's being distributed by OPEN ROAD pictures and will be opening wide shortly!
Tomorrow, I'm off to the Basement to shoot an Animation Celebration with my personal Animation Guru, Leonard Maltin. I'm giddy, overjoyed… and just can't wait!
If you're in town for SXSW and see me – come up. I love meeting fellow film lovers – and more, I love to hear what you've loved. Send reviews to harry@aintitcool.com!
But for now, I have to rest. This day began quite a long time ago and half a country away. But I couldn't waste a second to tell you about this day. I fucking love film! It can remind you of the solemn joy of remembering those moments of being a confused kid whose parents no longer love one another – and you can't conceive, because you love both parents. It reminds you that when you've lost everything, you have the opportunity to redefine who and what you are. To never stop dreaming, never stop sharing with future generations – and food… it's real fucking good in life!