Hey Yo, Draven here.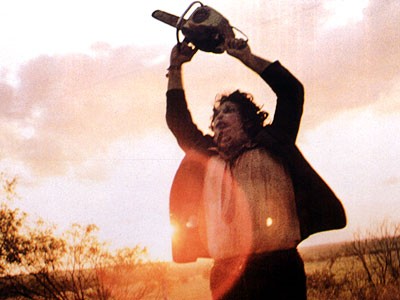 We are fast approaching the 40th anniversary of the original TEXAS CHAIN SAW MASSACRE and in celebration of it, you lucky bastards at the South by Southwest Film Festival will get the chance to screen a newly restored 4K print. The screening will take place this Monday (March 10th) at the Topfer Theatre at 9:30PM.
If you guys are going to SXSW, make sure you do everything you can to make it to this screening. This will be the absolute best that THE TEXAS CHAIN SAW MASSACRE has ever looked and screening in Austin where the movie was filmed is going to be an awesome events. If you want to know what went into restoring the original 16 millimeter print check out these quotes from Variety's article:
"The restoration was overseen by Todd Wieneke of Dark Sky Films and took place at NOLO Digital Film in Chicago and needed five months of 40-hour workweeks to complete the color grading and the restoration. All 120,960 frames were transferred to a 4K scan."
Director Tobe Hooper had this to say about seeing the new print:
"I haven't seen 'The Texas Chain Saw Massacre' on the big screen for many, many years," he said. "This 40th anniversary restoration is absolutely the best the film has ever looked. The color and clarity is spectacular, displaying visual details in the film that were never before perceptible."
A wider release of this new 4K print is scheduled for this summer, but no other details are known right now. Hopefully, it will be a wide enough release that most of us will get to see it. Beyond that, with this new 4K transfer I assume that means we will be getting a 40th Anniversary Blu-ray this fall.
Follow me on Twitter here!