Papa Vinyard here, now here's a little somethin' for ya...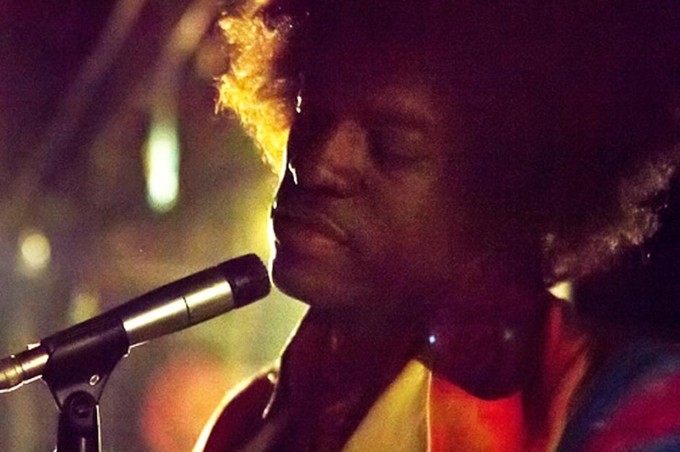 Three days after John Ridley's big Oscar win for writing 12 YEARS A SLAVE, we have a clip for his second movie as a director (and first in 17 years), the Jimi Hendrix biopic ALL IS BY MY SIDE. Andre 3000 (nee Benjamin) does his best Jimi, and as you can see below, it seems to be a pretty awesome impersonation. He's got the voice, the getup, and that elusive, drugged out charm that helped make Hendrix a superstar before he kicked the bucket at 27 (and has kept him iconic in the decades since). Imogen Poots is also on hand as Keith Richard's former muse, Linda Keith, who has a surprisingly intimate relationship with the rock star whose image she helped refine.
While it's a bummer the Hendrix estate wouldn't grant Ridley the rights to Jimi's music catalogue (which makes me think this biopic may be pretty harsh on the late musician), it'll be cool to see Jimi's rise to fame during the single year of his life that this film documents. The film got mixed reviews out of Toronto, but everyone who's seen it singles out Benjamin's central performance, and that's the big thing this movie needs to get right. The taste below gives us a hint of that, and now I'm definitely looking forward to seeing more of Benjamin as Hendrix in the actual film.
ALL IS BY MY SIDE plays SXSW next Wednesday, March 12th, but no word on its U.S. release date yet.
-Vincent Zahedi
"Papa Vinyard"
vincentzahedi@gmail.com
Follow Me On Twitter