Brawn and beauty are kicking the stool out of brains – just like in high school! This lass, former NFL cheerleader Morgan McLeod, is not on the Brains tribe: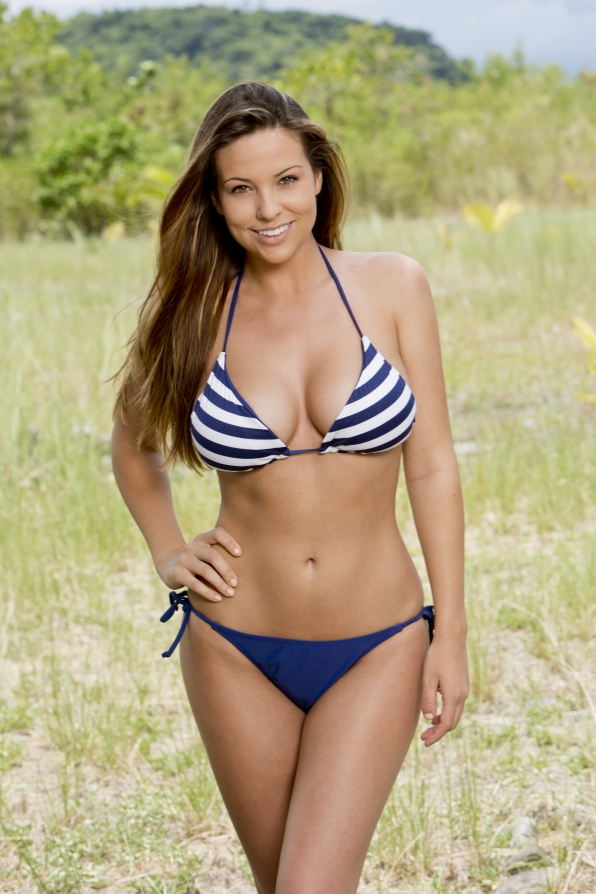 Premiering or returning tonight:
Bring It! (10pm Lifetime)
The Face (10pm Oxygen)
Flipping Out (10pm Bravo)
Preachers' Daughters (9pm Lifetime)
Restaurant Impossible (10pm Food)
"Revolution," no longer following "The Voice," is the bubbliest of bubble shows at the moment. Why keep it around when NBC could just order more Dick Wolf shows like "SVU" and "Chicago PD"? "Nashville" also reeks of bubble.
"Modern Family" hit a new season low last week. It used to be more or less tied with "Big Bang Theory" as America's top sitcom, but that's no longer remotely true.
"Survivor" got off to a much more solid start than did "The Amazing Race," which only hit a 1.5 the prior Sunday.
Wednesdays, Jan. 1-Feb. 26, 2014
(adults 18-49; older weeks in parentheses; repeats in gray)
3.1 (1.2) (1.6) (3.5) (1.8) (3.4) (3.2) (3.5) (1.5) Modern Family
2.7 (2.6) (3.4) (3.9) (3.8) (4.0) (4.7) (---) (---) American Idol
2.4 (---) (---) (---) (---) (---) (---) (---) (---) Survivor
2.2 (---) (---) (1.7) (1.7) (1.6) (1.5) (2.0) (---) Chicago PD
2.2 (2.5) (---) (2.8) (1.2) (2.2) (2.4) (---) (1.3) Criminal Minds
2.0 (2.3) (---) (2.5) (3.0) (2.9) (3.4) (---) (---) Duck Dynasty
2.0 (---) (---) (1.8) (2.0) (1.8) (1.4) (2.1) (0.9) Law & Order SVU
1.7 (1.0) (1.4) (2.2) (1.5) (2.3) (1.8) (2.2) (1.2) The Middle
1.7 (---) (---) (---) (---) (---) (---) (---) (---) Mixology
1.4 (0.7) (1.2) (1.7) (1.5) (1.8) (1.6) (---) (---) Suburgatory
1.3 (0.5) (0.7) (1.3) (1.5) (1.4) (1.3) (---) (---) Nashville
1.3 (---) (---) (---) (1.3) (1.5) (1.3) (1.5) (0.4) Revolution
1.1 (1.2) (---) (1.5) (1.7) (1.5) (---) (---) (---) Wahlburgers
0.9 (0.3) (---) (1.0) (1.1) (0.9) (0.9) (0.3) (0.3) Arrow
0.9 (1.1) (---) (0.9) (0.8) (0.8) (0.6) (0.5) (---) Real World
0.8 (0.7) (---) (1.2) (1.9) (0.8) (0.6) (0.5) (---) NBA Basketball
0.8 (0.8) (0.8) (0.9) (0.9) (1.0) (---) (---) (---) Workaholics
0.7 (---) (---) (---) (---) (---) (---) (---) (---) The Americans
0.7 (0.6) (0.7) (0.7) (0.7) (0.7) (0.6) (---) (---) Men At Work
0.6 (0.5) (---) (0.6) (0.6) (0.6) (---) (---) (---) Broad City
0.6 (0.5) (0.4) (0.5) (---) (0.6) (0.5) (0.4) (---) Colbert Report
0.6 (0.5) (0.5) (0.7) (0.6) (0.6) (0.6) (0.6) (---) The Daily Show
0.5 (0.5) (0.5) (---) (---) (0.6) (---) (---) (---) Ghost Hunters
0.5 (---) (0.4) (---) (---) (---) (---) (0.4) (---) House Hunters Intl
0.5 (---) (0.5) (0.6) (0.7) (0.5) (0.6) (---) (---) Melissa & Joey
0.5 (---) (---) (0.8) (0.7) (0.7) (0.6) (0.8) (---) Psych
0.5 (0.2) (---) (0.5) (0.7) (0.5) (0.5) (0.3) (0.2) Tomorrow People
0.4 (---) (0.5) (0.5) (0.6) (0.5) (0.6) (---) (---) Baby Daddy
0.4 (0.5) (---) (0.5) (---) (0.4) (---) (0.5) (0.5) Conan
0.4 (---) (---) (---) (---) (---) (---) (0.5) (---) Dragons
0.4 (0.5) (0.5) (---) (---) (0.4) (0.4) (0.5) (---) House Hunters