Hey folks, Harry here with the latest PICKS AND PEEKS Column! There's some awesome titles this week, including my personal favorite film from BNAT15, THE AGONY & THE ECSTASY! I've a plane to catch around 4:30am… so had to get this out a little early, hope you don't mind. As usual, the images and link take you to Amazon, where you can learn more on a title and if so motivated, you can order it and have it delivered straight to your front door! A small percentage of the price actually helps to keep this column coming, so thank you for your support – now… let's jump into it…

Tuesday, March 4th, 2014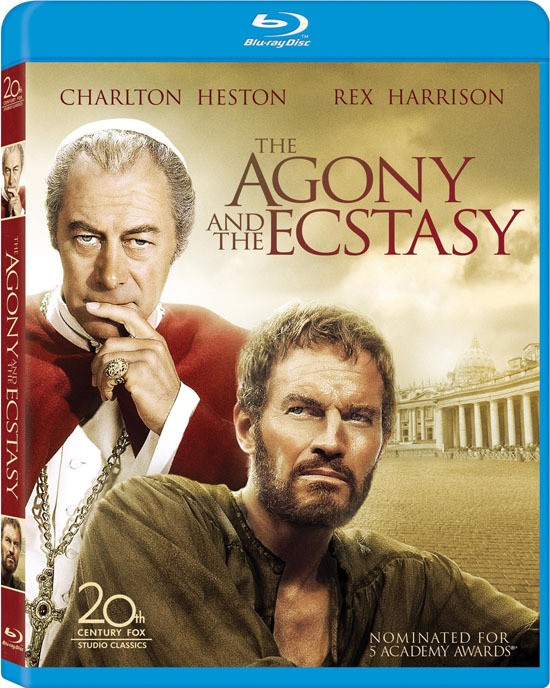 THE AGONY & THE ECSTASY Blu Ray
For me, this was the star of Butt-Numb-A-Thon 15! Carol Reed's THE AGONY & THE ECSTASY is one of those films that has been worshipped in my family for as long as I can remember. The story of Rex Harrison's Pope Julius II and Charlton Heston's Michelangelo and their collaboration upon the Sistine Chapel's ceiling. One of the greatest artistic achievements in human history! But it wasn't easy. Now what made this the star attraction for me at BNAT15, was the 70mm print we were screening which was… flawless. This Blu Ray is beautiful, far far better than the streaming print on Netflix Instant right now, but it still isn't the awesome of 70mm. At least not through my projector, which I doubt could ever produce an image as beautiful as a 70mm print. The sound is tremendous on the blu, so you'll really hear that Jerry Goldsmith & Alex North score at its finest! This film is just tremendous. Heston and Harrison torturing one another. Both feeding upon each other. The moment of inspiration for Michelangelo is one of my favorite cinema moments. If you love EPIC CINEMA, this is an Epic that doesn't get nearly the love it deserves. It blew the audience at BNAT15 away, I bet it'll do the same to you!


HUNGER GAMES: CATCHING FIRE Blu-Ray
Well choosing to not read the second book definitely made watching the second HUNGER GAMES movie a stronger viewing experience for me, than the first film, where I had read the novel. I liked this film quite a lot. I'm still not a fan of Josh Hutcherson, but that's a small quibble. Otherwise, the casting is exceptionally strong. The Transfer here is about as perfect as you'd expect. The extras are pretty extensive, with a nearly two and a half hour making of, which takes us through the process of hiring Francis Lawrence, who seems to be a really sweet and awesome fella from this doc. The BTS interviews just about everyone you could possibly want to hear from! There's also an audio commentary from Francis Lawrence and producer Nina Jacobson! Plus a couple of deleted scenes. There's also an extensive preview look at DIVERGENT – which frankly doesn't feel all that compelling. That said, I'm very eager to see THE HUNGER GAMES come to a close. If only to see Phillip Seymour Hoffman's final performance.


12 YEARS A SLAVE Blu-Ray
I was not completely blown away by 12 YEARS A SLAVE, though there are performances and sequences of the film that are pretty damn exceptional. Take Lupita Nyong'o's Patsey. She's AMAZING in the film. Paul Dano is great as usual, though I preferred him in PRISONERS (a really great flick, I feel). Chiwetel Ejiofor is very strong in the film – there was just something about the movie that left me feeling flat. With the film's win at the Oscars this Sunday, well, it makes me want to revisit this one more time. The Blu Ray is a gorgeous transfer – and the disc does come with over 50 minutes of extras, but given this just won BEST PICTURE… you can bet there will be a future version of this released that is even better. At least, that's how it has always been with modern Best Picture winners. My personal pick of the Best Pictures was HER. But the Academy has spoke…


SOMEWHERE IN TIME Blu
This Blu was not available in time for proper review, but it seems from what I can tell, that they've done a good job here. In addition to getting the film in 1080p – we get a BACK TO SOMEWHERE IN TIME documentary, Director Jeannot Szwarc provides a feature commentary and there's some sort of SOMEWHERE IN TIME Fan Club special feature. But really – there are three main reasons to own this. 1: Richard Matheson poured his soul into this story and it captures you. 2: Christopher Reeve and Jane Seymour and Christopher Plummer are all absolutely magic in SOMEWHERE IN TIME. 3: John Barry's immortal score to SOMEWHERE IN TIME was even used in the Oscar's tribute to the departed… which included Matheson! The film is one of the great time travel movies, one of the great film romances of all time and just personally dear to my heart. I, for one, am dying to pick this title up!


HARRY & THE HENDERSONS Blu
HARRY & THE HENDERSONS is one of those warm blanket movies that always makes you feel better. Rick Baker's Harry is one of the most amazing man in suit costumes put on film. Just remarkably expressive and present. But the soul of Harry is played by the man in suit, who was also the soul of the original Predator… KEVIN PETER HALL! Who I miss something fierce on screen. As a big man, he put so much character into the creatures he brought to life! Also – I really have to do a yell out to my love of M. Emmet Walsh – one of my all time favorite character actors who plays John Lithgow's intolerant father… but does it in a sweet kind of innocence which felt true. The Blu comes loaded with deleted scenes, a making of and a finding the missing link featurette. But we also get William Dear, the director, doing a feature commentary for us! So good news for everyone that loves Harry!


AN AMERICAN TAIL Blu
It's great to have this in HD, but I really do feel a better Blu Ray would've been nice. The print is nice, but there's really no extras at all on this, besides a sing-a-long feature for SOMEWHERE OUT THERE… but it would've been nice to get Don Bluth talking, locate some of the animators, see about getting Spielberg to talk about it, cuz AN AMERICAN TAIL was a big deal upon release. I think it is probably the way Disney treats their animated classics, that just makes me want a more robust release on this title, which I know is a beloved classic for a whole lot of you. But, you get the film! There's a couple of interactive features that are just lame. Deserves a much better release!


THE VISITOR blu
One of the weirdest culty films you'll ever see. Featuring the acting talents of Sam Peckinpah, John Huston, Shelley Winters, Lance Henriksen, Mel Ferrer and Glenn Ford… John Huston teams up with an intergalactic Jesus type to take on an 8 year old girl possessed by a demon… and the film is about that for a bit, but to try and encapsulate the weird fucking make no sense mondo bizarro of THE VISITOR… well, nothing prepares you. Is it very good? Depends upon your definition of "good". The film leaves many scratching their heads wondering what the fuck they just saw… and to me, that makes it good. It's so weird as to alienate and possibly enthrall. Drafthouse did a very good thing bringing this to all of you! If you love weird, you'll enjoy this. Maybe. Heh.


GRANDMASTER Blu
I know some folks that are tired of films about Ip Man, but when a director like Wong Kar Wai comes along wanting to have a go at that story – and wants to cast Tony Leung and Zhang Ziyi in that story… Well, you know it won't be anything like the Donnie Yen movies, it'll have stunning flourishes and gorgeous fights – and that's exactly what we get. Nominated for Philippe Le Sourd's beautiful cinematography – you'll just be stunned by the look of THE GRANDMASTER! The Blu Ray is loaded with special features running just over an hour or so – but including a conversation with Bruce Lee's daughter Shannon Lee and a feature with RZA talking about the film. This is a really beautiful film that kicks ass – and the blu ray is absolutely worth checking out!


OLDBOY remake Blu
Ever since OLDBOY played at Cannes, there's been talk of a remake. The original, I first saw off of a rough cut on VHS that was sent to me. I was blown away. Spike Lee's remake is a quality film. Brolin, Olsen and Copley all do a fine job, but it can't help but feel like it's going through the motions. Still, I enjoyed the film… until the fucking copout of an ending that gets placed on this. I loath that ending. Brolin really does give this his all, and even if you're morally opposed to the film, you should probably watch just for him. Would've loved more Spike Lee in the special features, especially a Commentary. Overall an ok Blu for an ok Remake. But really, if you're going to own this story, own the original.


THE LAST DAYS ON MARS
Here's another Astrophobic suspense horror tale about mankind going to Mars to find something unexpected and deadly. Now folks have been calling this unoriginal, as it essentially becomes zombies on Mars in a way, but… better than that… I like to think of this as a prequel of John Carpenter's GHOSTS OF MARS. Now I know, that isn't a great film either, but together… these two films tell us of a deadly something on Mars that can infect mankind with a killer urge to kill. The fx work is nicely done – and if you like Live Schreiber and Elias Koteas… well, you'll at least like them. Over all though, I had fun with this. Watch this, then Carpenter's film. This makes that better and provides a pre-story to the timeline in that film!


PHILOMENA Blu
The second you see Stephen Frears' name as director, you should be interested in watching this, as Frears is a director to follow. This is also the film responsible for Judi Dench being nominated for Best Actress this year at the Oscars – she plays a woman, who at a younger age was forced into giving up her out of wedlock baby, and spends a good deal of her life trying to find him. The movie is delightful and Judi Dench continues to convince us that she is truly one of the crown jewels of acting! Really great flick!


That's it for this week! Next week we'll be looking at THE BOOK THIEF, INSIDE LLEWYN DAVIS, OUT OF THE FURNACE, HOMEFRONT, THE BROKEN CIRCLE BREAKDOWN, THE ALTAR OF LUST, ANGEL ON FIRE, OZPLOITATION TRAILER EXPLOSION, BRING ME THE HEAD OF ALFREDO GARCIA Blu, ALL THE KING'S MEN Blu, HATARI blu, EL DORADO Blu, GEORGE WASHINGTON Criterion Blu, HUNCHBACK OF NOTRE DAME (1923) Blu, SAMSON & DELILAH Blu, DOGS Blu, THIRST Blu, EQUUS Blu, DEAD KIDS Blu, PATRICK Blu and that's about it!