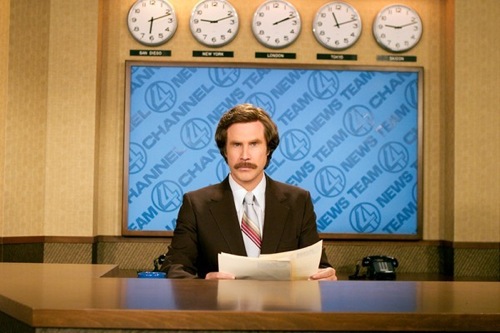 Jeremy here...
Now that ANCHORMAN 2: THE LEGEND CONTIUNES has made enough money at the U.S. box office to prompt a limited release of an R-rated version with 100% new jokes, you're probably thinking a third film is already in the works. Well, it isn't. At all. In fact, writer-director Adam McKay has zero interest in making another ANCHORMAN movie.
In an interview with Empire's Chris Hewitt, McKay pours some ice cold water down the pants of Ron Burgandy fans. "It's done," he says. "I think that's it. It was great to do it and it was so fun to work with those guys again, but I think that's it for Ron Burgundy." McKay goes on to say that he prefers creating new characters, and that this is the last sequel he'll ever do - so go ahead and throw some dirt on your dreams of seeing Brennan Huff and Dale Doback again as well. They're gone. They're all gone.
Like many of my online colleagues, I lobbied hard for Paramount to make ANCHORMAN 2. But while I liked the finished film, I have to admit there were moments when it felt a little too much like fan service. So if McKay says he's done with sequels, good for him. I'd rather see him go bonkers with inspired new material than play the hits for us fans.
But I'll absolutely be first in line for the new ANCHORMAN 2 cut. Believe that.