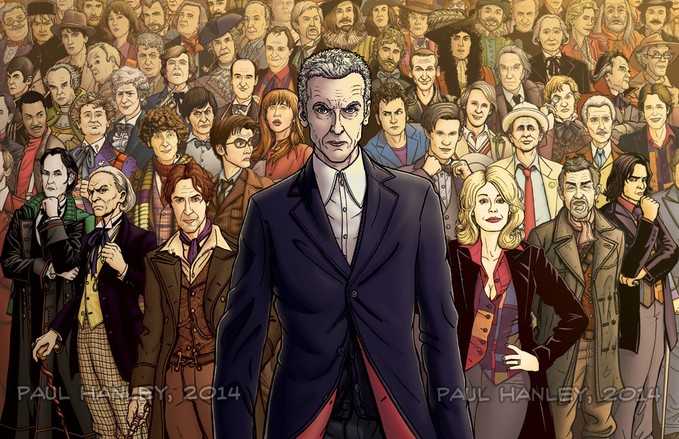 [by Paul Hanley]
Glen here…
I didn't quite get my review of The Ice Warriors (Troughton, Story #39) ready in time - so look for that…and more…next week. Nonetheless, 'twas an interesting week for WHOness…here are some highlights, as well as HornOrSilk's nice report on the White Ghosts Big Finish Audio.
BEHOLD THE FIRST DOCTOR WHO COVERS FROM TITAN'S FORTHCOMING COMICS!!
Accompanied by this press release:
Two new DOCTOR WHO comic series from TITAN COMICS!

Here's a sneak peek at the issue #1 covers and creator details for the brand-new DOCTOR WHO: THE TENTH DOCTOR and THE ELEVENTH DOCTOR comic series from Titan comics, hitting comic stores this July!

DOCTOR WHO: THE TENTH DOCTOR #1

THE TENTH DOCTOR IS BACK, IN AN ALL-NEW ONGOING SERIES! NEW COMPANION! NEW HORIZONS! UNFORGETTABLE NEW FOES! ALLONS-Y!

Eisner Award-winning writer Nick Abadzis (Laika) and fan-favorite artist Elena Casagrande (Angel, Suicide Risk, Doctor Who, Star Trek) take control of the TARDIS for their first five-issue arc with the Tenth Doctor! And don't miss the second arc, by fellow series architect Robbie Morrison (Drowntown, Nikolai Dante, The Authority)!

DOCTOR WHO: THE ELEVENTH DOCTOR #1

THE ELEVENTH DOCTOR RETURNS IN AN ALL-NEW ONGOING SERIES, WITH A TIME-TWISTING LEAP INTO THE UNKNOWN! GERONIMO!

Series architects Al Ewing (Loki: Agent of Asgard, Mighty Avengers, Trifecta) and Rob Williams (Revolutionary War, Ordinary, Miss Fury, The Royals: Masters of War, Trifecta) kick off a whirlwind adventure through eternity for the Eleventh Doctor, with artist Simon Fraser (Nikolai Dante, Grindhouse, Doctor Who)!

Check out the issue #1covers for both series by Alice X. Zhang!

DOCTOR WHO: THE TENTH DOCTOR and THE ELEVENTH DOCTOR comic series hit comic stores on July 23, 2014.
HELP CRODFUND THE INSPECTOR SPACETIME MOVIE!!
LAST WEEK we learned that seventh Doctor Sylvester McCoy would be appearing in Travis Richey's upcoming INSPECTOR SPACETIME project. Only, for some reason, a number of folks didn't seem to track on the reveal…which occurred in this video reel from BeyondTheMarquee.
As such, I thought I'd call your attention to the news once more.
For those unfamiliar with INSPECTOR SPACETIME…let's see…how does one describe it? What the Zuckers and Abrahams did to airplane disaster movies with AIRPLANE!…is what Richey more or less does to DOCTOR WHO via INSPECTOR SPACETIME. Add in a dose of HITCHIKER'S GUIDE TO THE GALAXY sensibilities, and 'phone booth' materializations which are, frankly, more interesting than proper DW? You get a surprisingly well produced, agreeably breezy, DW-inspired affair with heart, soul, and more than a few winks and nudges.
Jump to YouTube to find some previous installments of the series. The 2nd Season of the show - a single entry of roughly 60 minutes (previous episodes were shorter) - is set to feature genre giant Robert Picardo, Mayim Bialik (BLOSSOM, BIG BANG THEORY), Chase Masterson from DEEP SPACE NINE, the afore-mentioned Sylvester McCoy, and more.
Here's a prequel episode to whet your appetite…
The new INSPECTOR SPACETIME is currently being crowd-funded HERE. The project's almost half way there, with nearly a month left in the campaign. Let's help him tip this through the hoop!
LINDALEE WITH BILLIE PIPER
Last week, in the reel embedded above, we saw a snippet of BeyondTheMarquee's Lindalee conversing with Billie Piper. Here's a link to much more of their discussion...
EARLIER THIS WEEK: DOCTOR WHO S8 GETS A NEW/RECURRING CAST MEMBER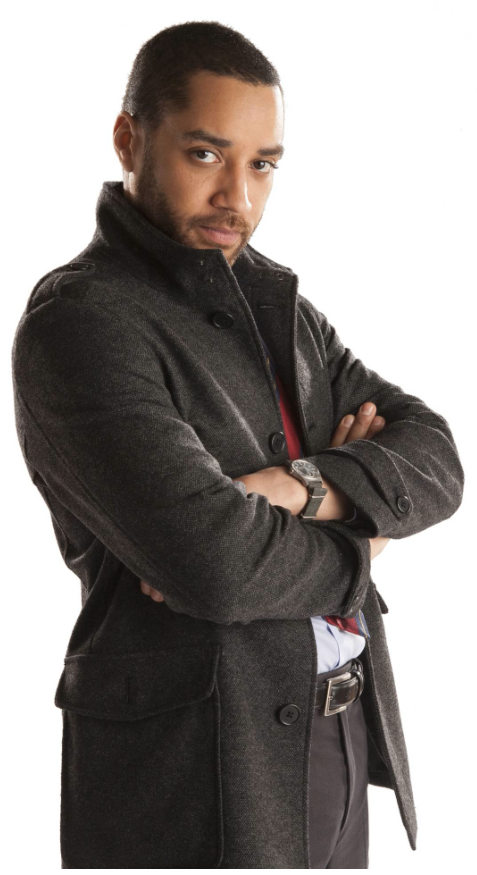 Samuel Anderson (EMMERDALE, MIDSOMER MURDERS, DOCTORS, THE HISTORY BOYS) will join the cast of DOCTOR WHO Season/Series 8. Snippets from a press release on his casting reveal…
Anderson will play Danny Pink, a teacher at Coal Hill School where companion Clara Oswald (Jenna Coleman) also teaches.
[EDIT]
Steven Moffat, lead writer and executive producer, added: "For the fourth time in Doctor Who history, Coal Hill School is coming to the aid of the TARDIS. In 1963 teachers Ian Chesterton and Barbara Wright accompanied the First Doctor. These days it's the turn of Jenna Coleman as Clara Oswald. And very soon now, Sam Anderson as Danny Pink will be entering the world of the Doctor. But how and why? Answers are coming later this year in Peter Capaldi's first series of Doctor Who!".
Filming recently began on episode 4 of the new series, which will co-star Robert Goodman (Gangs of New York, Game of Thrones) and episode 5, co-starring Jonathan Bailey (Broadchurch, Groove High), and Pippa Bennett-Warner (The Smoke, Death in Paradise).
Which brings us to...
SEASON/SERIES 8 FILMING
Two videos featuring the filming of Season/Series 8 filming have made their way to YouTube.
Also, WarpedFactor has this interesting BTS image appearing to show a man in an orange spacesuit similar to the outfit donned by previous Doctors David Tennant and Matt Smith
DOCTOR WHO LEGOS!?!?!?
Articulation Times found this brief but revealing statement on the LEGO CUUSO website, under "Licensing and Conflict Resolutions.

This makes the possibility of genuine DOCTOR WHO-themed LEGO sets a distinct possibility, but still far from a certainty.
I'd love to see this happen, and would love to seduce my DW-reticent seven year old into the franchise by helping him to build DOCTOR WHO LEGO sets…he can't resist LEGOs…they're like catnip to him. And if that's his gateway to DW? Bring it on…
Perhaps more intriguingly, does this leave the door open for the possibility of a LEGO DOCTOR WHO game? The LEGO games are, on the whole, wonderfully clever and inventive (LEGO MARVEL is among the most fun games I've played in quite some time). The mind reels when conjuring what a LEGO DW game on consoles or PC - with the franchise's rich and dynamic universe/aesthetic - game might be like…imagine the hundreds of characters which could be unlocked. Imagine the worlds they could travel to, break apart, and reconstruct!
Yowza...
HORNORSILK REVIEWS THE WHITE GHOSTS BIG FINISH AUDIO
=============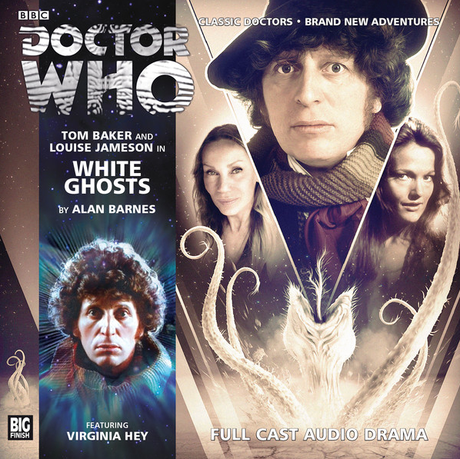 Fourth Doctor Adventures 3.02 White Ghosts
Written By: Alan Barnes
Coming some days after the last episode, the Doctor has decided he does not have to send Leela back home; while he continues to disagree with her actions, he feels she did what the Time Lords had planned for him to do and accepts that Leela has to be allowed to be true to herself, even if it differs from his own ideals. This leads to a brief joke about what it meant for Leela to be true to herself, but, like much in this story, it is not too effective.
In this way, this audio begins with disappointment, the kind I feel throughout the story. Instead of having an excuse such as the Doctor and Leela are taken off course, and they resolve their differences in the audio, we basically have the "cliff-hanger" of the last audio effectively turned into nothing. Of course, it would have been interesting if this episode was one where Leela was taken back home, and we see a new adventure with Xoanon somehow involved. That, at least, would have used the cliff-hanger effectively. It could have explored how much Leela has truly changed, using that to explain why Leela ultimately stays with the Doctor and not sent away.
Instead, we get the diversion of the TARDIS after the Doctor has told Leela she can continue with him if she desires to do so.
The TARDIS is diverted by a missile to a planet which is effectively in darkness for a thousand years at a time (and daylight only one day afterward). There is a student scientific group on the planet, sent there to investigate the effects of this single day of daylight has on whatever is living on the planet, living normally within the darkness. It is this life, called the White Ghosts, which is effectively the challenge of the story. What is it? What is its purpose? And what is the true purpose of the scientific expedition on the planet? That is what comes with this two-part story.
This story feels like filler. While there could have been something exciting at the beginning, something interesting, a twist in the Leela story, instead, we get this. It feels uninspired throughout. Virginia Hey, from Farscape, plays Bengel, who is in charge of the scientific expedition. She is very generic in this story, which I guess is fitting, because the story itself is in general, fairly generic. Yes, there are a few twists associated with the "White Ghosts," but nothing which at least excites me. The best of them felt like something done already better with the Sixth Doctor.
There is a slight sense of the plot for this season coming through near the end of the story. The Doctor continues to find himself used by the Time Lords. He is being sent on mission after mission to do their dirty work. He doesn't like it. Will we see it leading to a significant confrontation? Hopefully, yes.
I give this a 6/10.
-- HornOrSilk
=============
—————-
Glen Oliver
"Merrick"
- e-mail
- Twitter


DOCBACK CODE OF CONDUCT



1) a Docback should be about completely open and free discourse regarding all things WHO with, obviously, some variation on subject matter from time to time - the real world intervenes, discussions of other shows are inevitable, etc.)...

2) converse, agree, disagree, and question as much as you want - but the freedom to do so is NOT a license to be rude, crass, disrespectful, or uncivilized in any way. Not remaining courteous and civil, as well as TROLLING or undertaking sensational efforts to ignite controversy, will result in banning. Lack of courtesy may receive one (1) warning before a ban is instigated. Obvious Trolling or Spamming will result in summary banning with no warning.