Papa Vinyard here, now here's a little somethin' for ya...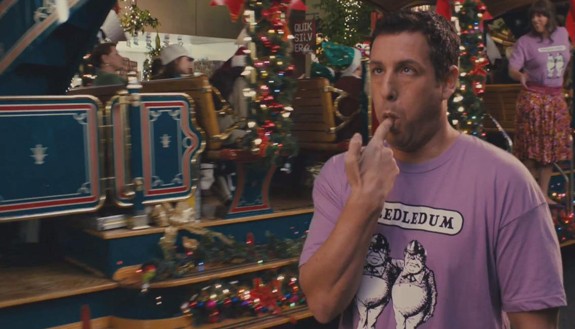 When Chris Columbus signed on to adapt Patrick Jean's short film, PIXELS, for Happy Madison Productions, I speculated that, even though we hadn't heard any news on the subject, the film was being geared up as an Adam Sandler vehicle (admittedly not a huge stretch). Sure enough, The Wrap has announced that Sandler is set to star in Sony's large-scale action-comedy, while oft-collaborator Kevin James and rising star Josh Gad are in talks to back him up.
Apparently, the draft that his longtime writer (since SNL), Tim Herlihy, turned in wasn't what swayed Sandler to sign on; it was a studio-mandated rewrite by ROLE MODELS (and GEORGE LUCAS IN LOVE) writer Timothy Dowling that eschewed "Happy Madison's unique brand of humor" for "more of a tentpole-sized action-comedy in the vein of GHOSTBUSTERS." So, basically what they're saying is that they had a GRANDMA'S BOY-esque script, and are turning it into BEDTIME STORIES to satisfy the family-friendly star. That…gives me pause.
Neither Sandler, James, nor Gad have any sort of specific pull with gamers, or are even particularly known for playing video games themselves, so it's obvious Columbus and Co. are shooting for a four-quadrant tentpole feel, rather than any sort of "geeky" homage to old-school gaming. PIXELS the short is so light on story that it's hard to imagine what a feature-film version of it would be like, but Columbus, Sandler, and a studio looking for a new GHOSTBUSTERS seem to be etching out what we should expect pretty clearly.
Seth Gordon is involved in a producing capacity, so hopefully his expertise on the subject keeps its spirit pure, and helps the film avoid the pitfalls of the usual goofy, subtle-as-a-chainsaw Sandler/James studio comedy.
-Vincent Zahedi
"Papa Vinyard"
vincentzahedi@gmail.com
Follow Me On Twitter