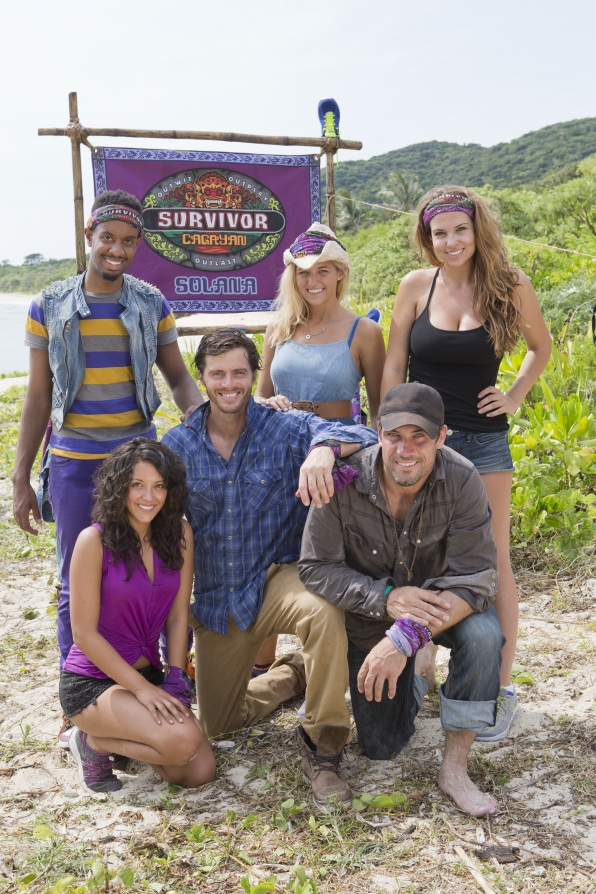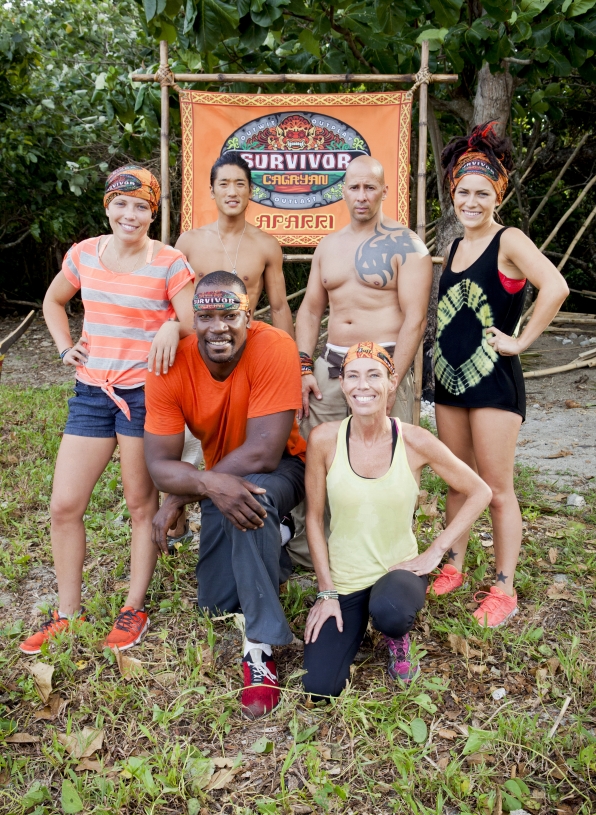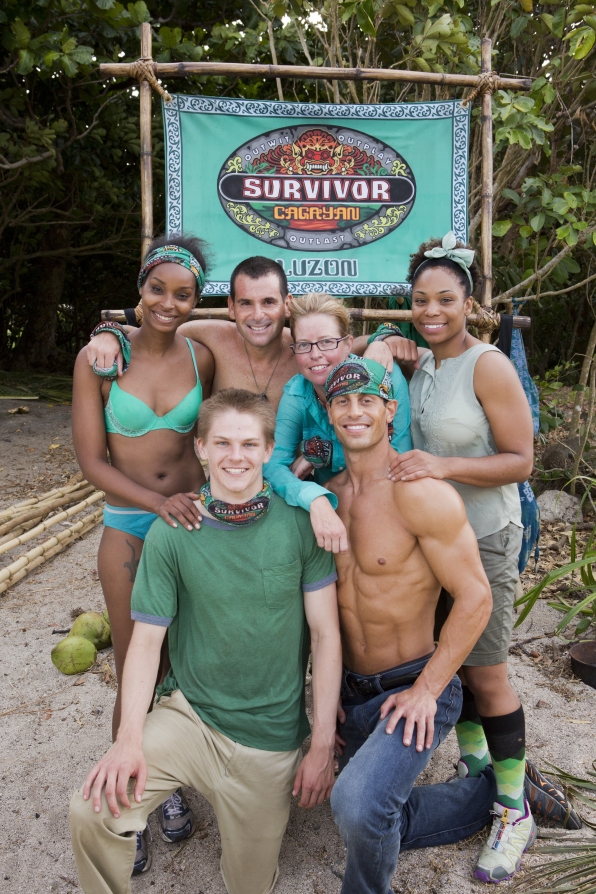 Each photo contains one of three tribes: Brains, Brawn & Beauty. CBS made certain one of the Brains members wore glasses in the Brains photo; I'll leave it to you to sort out which tribe is Beauty
I believe this season's "Survivor" is the first in quite some time that features all new contestants.
This version offers a retired NBA player just back from North Korea, two NFL cheerleaders, two cops, two students, a pro poker player, a nuclear engineer, an attorney, a pageant winner, a horse trainer, a male model, a martial artist, a pilates instructor, a social worker, a hairstylist, and the president of the Miami Marlins.
Premiering or returning tonight:
Ali G Rezurection (10:30pm FXX)
The Americans (10pm FX)
Bulloch Family Ranch (9pm Up)
Legit (10pm FXX)
House Of Horrors (10pm ID)
Mixology (9:30pm ABC)
Road To Sturgis (8pm DA)
Survivor (8pm CBS)
Unsung Hollywood (10pm TV1)
Upload (10:30pm Tru)
FX's "Ali G Rezurection" includes a handful of episodes that never aired on American TV, in addition to the genius HBO episodes that aired on both sides of the pond, all with new wraparounds starring Sasha Baron Cohen.
"Idol" hit an all-time ratings low last Wednesday, but CBS stuck a couple new episodes of its procedurals against the Olympics and didn't do too badly.
Of course this year's Olympics were apparently the least-watched ever. I reckon they didn't pull Bob Costas' disturbing pink eyes off camera in an expedient-enough manner!
"Real World Explosion" continues to gain momentum as "Wahlbergers" hit another new personal low:
Wednesdays, Jan. 1-Feb. 19, 2014
(adults 18-49; older weeks in parentheses; repeats in gray)
5.0 (5.6) (---) (---) (---) (---) (---) (---) Olympics
2.6 (3.4) (3.9) (3.8) (4.0) (4.7) (---) (---) American Idol
2.5 (---) (2.8) (1.2) (2.2) (2.4) (---) (1.3) Criminal Minds
2.3 (---) (2.5) (3.0) (2.9) (3.4) (---) (---) Duck Dynasty
2.0 (---) (2.0) (1.1) (1.6) (2.0) (---) (1.0) CSI
1.2 (1.6) (3.5) (1.8) (3.4) (3.2) (3.5) (1.5) Modern Family
1.2 (---) (1.5) (1.7) (1.5) (---) (---) (---) Wahlburgers
1.1 (---) (0.9) (0.8) (0.8) (0.6) (0.5) (---) Real World
1.0 (1.4) (2.2) (1.5) (2.3) (1.8) (2.2) (1.2) The Middle
0.9 (---) (---) (---) (---) (---) (---) (---) Hawaii Five-0
0.9 (1.3) (1.5) (1.3) (1.7) (1.5) (1.6) (1.0) Super Fun Night
0.8 (0.8) (0.9) (0.9) (1.0) (---) (---) (---) Workaholics
0.7 (---) (1.2) (1.9) (0.8) (0.6) (0.5) (---) NBA Basketball
0.7 (1.2) (1.7) (1.5) (1.8) (1.6) (---) (---) Suburgatory
0.6 (0.7) (0.7) (0.7) (0.7) (0.6) (---) (---) Men At Work
0.5 (---) (0.6) (0.6) (0.6) (---) (---) (---) Broad City
0.5 (0.4) (0.5) (---) (0.6) (0.5) (0.4) (---) Colbert Report
0.5 (---) (0.5) (---) (0.4) (---) (0.5) (0.5) Conan
0.5 (0.5) (0.7) (0.6) (0.6) (0.6) (0.6) (---) The Daily Show
0.5 (0.5) (---) (---) (0.6) (---) (---) (---) Ghost Hunters
0.5 (0.5) (---) (---) (0.4) (0.4) (0.5) (---) House Hunters
0.5 (0.7) (1.3) (1.5) (1.4) (1.3) (---) (---) Nashville
0.4 (0.4) (---) (---) (---) (---) (0.5) (---) Buying & Selling
0.4 (0.8) (---) (---) (---) (---) (---) (---) College Basketball
0.4 (---) (---) (---) (0.4) (---) (---) (---) @Midnight
0.3 (---) (1.0) (1.1) (0.9) (0.9) (0.3) (0.3) Arrow
0.2 (---) (0.5) (0.7) (0.5) (0.5) (0.3) (0.2) Tomorrow People