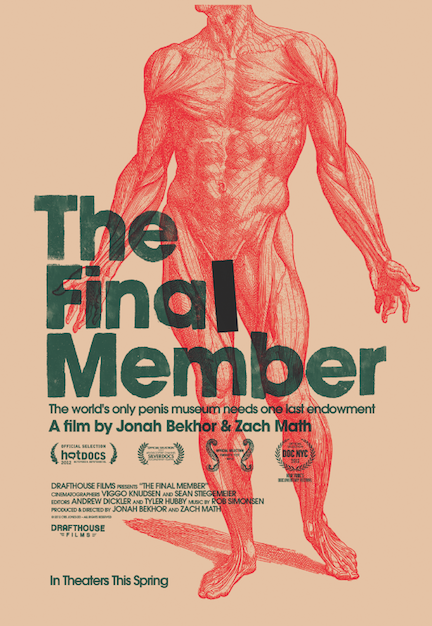 Nordling here.
I saw THE FINAL MEMBER at Fantastic Fest 2012, and I think what I appreciated most about the documentary, set in the world's only penis museum, was just how emotional and poignant the film got. Yes, it's full of strange characters and situations, and it's also funny as hell, but this is serious business for the people involved. The curator of the museum, Sigurdur Hjartarson, knows how strange it all is, but even though he has an odd way of showing it, he is a man of science first and foremost. Pall Arason lived the kind of life that one would normally find in adventure movies, but he also comes from a place of exploration and knowledge.
And then there is the American, Tom, who may be one of the weirdest people I've ever seen in a documentary. Errol Morris would have had a field day with this guy. You seriously have to see the movie to believe someone like Tom exists in the real world, and I can only imagine how he would come across to foreigners.
But while THE FINAL MEMBER is about as entertaining as documentaries get (even if it's not for everyone, especially those squeamish with the subject matter), this is a movie about passion, the search for knowledge, and how nothing is out-of-bounds when it comes to understanding the world around us, both scientifically and in our relationships with others. THE FINAL MEMBER is a perfect release for Drafthouse Films, and well worth an adventurous filmgoer's time. THE FINAL MEMBER opens in theaters and VOD on April 18th. Here's the trailer:
Nordling, out.