Papa Vinyard here, now here's a little somethin' for ya...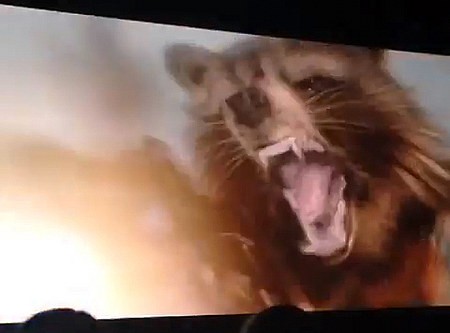 Even though that Comic-Con trailer leaked online, we still haven't gotten an official look at the GUARDIANS OF THE GALAXY in action, but if this rumor is true, we now know when we can expect that to happen. The Alberta Rating's Board, via JoBlo, has cleared a trailer for GUARDIANS with a 2:23 runtime. Given that they passed the AMAZING SPIDER-MAN 2 trailer we got today that very same day, it's not a stretch to think that we'll be seeing this full-length trailer in the immediate future.
This morning, Yahoo Singapore may have let the cat out of the bag in regards to an exact premiere date for the trailer. In a tweet that has since been deleted, they claimed that the trailer would drop on February 18th, next Tuesday. Whether they deleted the tweet at Marvel's insistence or simply due to faulty information is uncertain, but given the Alberta Rating's Board news, it would make sense that we'd see the trailer within the next week or so.
Even though Marvel didn't end up revealing GUARDIANS during the Super Bowl two weeks ago, they still have to be both grand and specific in how they market it. They have to play up the weird elements to set this apart from the other film's in the Marvel-verse, but, at the same time, they don't want to alienate (pun intended) the non-fanboy audience. How this trailer is received will be the first clear indicator of how the public is perceiving this bizarro comic-book flick, and I'm curious to see the uninitiated's take on this property.
Either way, barring a more official announcement (or one of those nonsense Vine teaser things), plan to be at your computer next Tuesday for your first HD look at Rocket Raccoon, Groot, Peter Quill, Drax, and Gamora. Can't wait to see what James Gunn's been cooking up with that big-boy budget Marvel gave him.
GUARDIANS OF THE GALAXY throw down like a-holes on August 1st, 2014.
-Vincent Zahedi
"Papa Vinyard"
vincentzahedi@gmail.com
Follow Me On Twitter