Hey Yo, Draven here.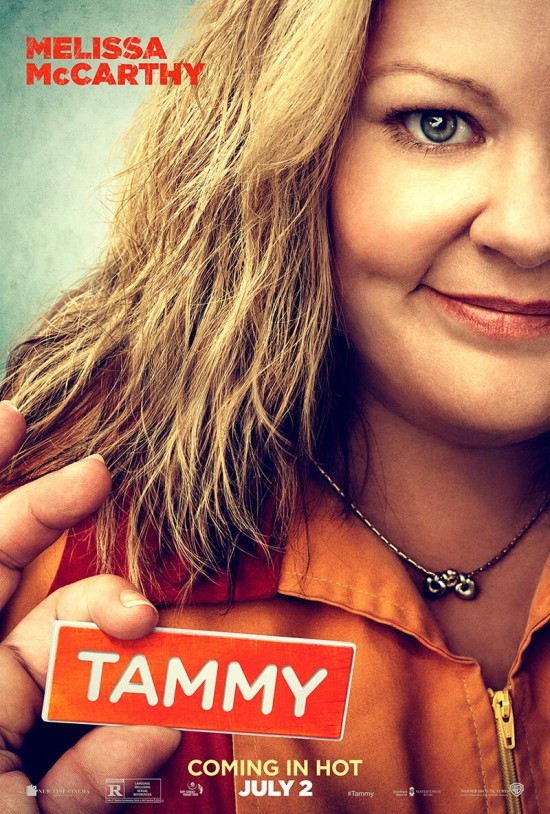 Melissa McCarthy's star is certainly on the rise after stealing the show in BRIDESMAIDS and then establishing herself as a box office draw last year with IDENTITY THIEF and THE HEAT. Her next film, TAMMY is a film that she is not only starring in, but also co-wrote with her husband and the films director, Ben Falcone (the air marshall in BRIDESMAIDS). The first teaser trailer was just released for TAMMY:
I like McCarthy a lot and her physical style of comedy and we get a glimpse of that in this teaser but the script for this film has received a lot of good buzz. So I bet it doesn't end up being quite what is teased here, as I have heard the script is similar in tone to some of James L. Brooks' films and not so much a straight-up comedy like IDENTITY THIEF or THE HEAT. It also has tremendous cast (Susan Sarandon, Dan Aykroyd, Mark Duplass, Kathy Bates, Toni Collette, Gary Cole, and Allison Janney), and a prime summer date, so I am looking forward to seeing what's in store on July 2nd.
Here is IMDb's plot description:
Tammy, who was recently fired from a Toppy Jacks fast food restaurant, returns home only to find her husband enjoying a romantic meal with the neighbor. She quickly packs her necessities, and travels down three houses to her parent's home. Upon denied use of her mom's car to drive to Niagara Falls, she quickly resorts to an "ailing" grandmother, who also lives in the home...Only instead of traveling alone, Grandma Pearl wants in on the road trip. After realizing Grandma Pearl has the funds, they hit the road. Pearl soon proves to be quite the alcoholic despite her diabetes, and Tammy quickly turns into the "baby-sitter." From finding love in a bar to robbing a Toppy Jack's in order to bail Pearl out of jail,the quirky adventure will have you finding yourself riding along for the misadventures of Tammy.
Follow me on Twitter here!