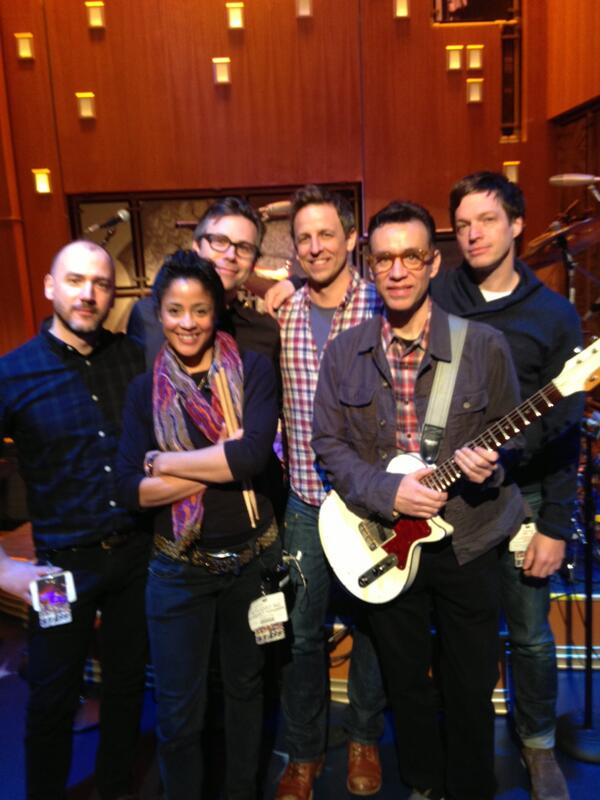 Fred Armisen, an accomplished professional musician before he became a comic actor and "Saturday Night Live" regular, will serve as bandleader (and presumably lead sidekick) on "Late Night With Seth Meyers," which launches on NBC Feb. 25 at 12:37 a.m. (Feb. 24 at 11:37 p.m. Central Time).
Meyers revealed the appointment via Twitter.
While Conan O'Brien and Jimmy Fallon used writer/announcers as their main second-bananas – Andy Richter and Steve Higgins respectively – the installation of Armisen recalls the installation of bandleader/SNL cast member Paul Schaffer as sidekick-in-chief during David Letterman's franchise-launching run.
Armisen apparently intends to continue to write and star in IFC's "Portlandia" even as he leads Meyers' band. Both "Late Night" and "Portandia" are produced by SNL mastermind Lorne Michaels.
Armisen appeared in 221 SNL episodes between 2002 and 2013. His many big-screen credits include "EuroTrip," "Anchorman," "Deuce Bigelow," "Tenacious D," "Deck The Halls," "The Promotion," "Baby Mama," "The Rocker," "Confessions of a Shopaholic," "Cop Out" and "The Dictator,"
When I was in the audience for SNL's 2008 Jonah Hill episode, I was surprised to find the off-air warm-up act was Kristin Wiig singing Blondie's "One Way Or Another" with Armisen accompanying her on guitar. It was loud and exciting!