Papa Vinyard here, now here's a little somethin' for ya...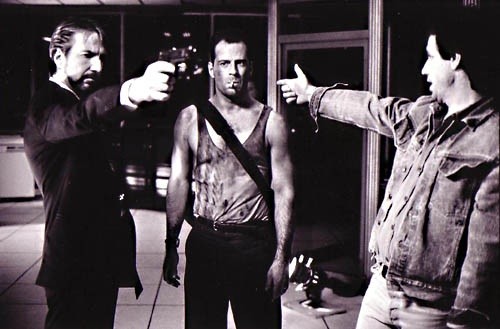 Even though his last two films, BASIC and ROLLERBALL weren't among his best, I feel we were deprived of some quality cinema when John McTiernan got busted for his association with that Anthony Pellicano wire-tapping scandal. His jail sentence, and the legal hubbub that preceded it, has kept McTiernan from getting behind the camera and getting that PREDATOR/DIE HARD/HUNT FOR RED OCTOBER mojo back. It's not the same situation as Walter Hill, who allegedly doesn't have to work that often because of his ALIEN money, or Richard Donner, who comfortably retired after a healthy half-century in the biz. This dude can do it, wants to do it, and thankfully, when he gets released later this month, he's jumping right back in the director's chair.
Over the weekend, Variety reported that, from behind bars, McTiernan has landed his first directing gig out the joint. He'll be helming a flick called RED SQUAD, written by relative newcomers Cam Cannon (A HAUNTING AT SILVER FALLS) and Jorge Suarez, for Hannibal Classics (that 50 Cent/Bruce Willis flick SETUP, the upcoming Nicolas Cager TOKAREV). RED SQUAD's about an ex-DEA agent who gets called back into the fold to take out a drug kingpin in a Mexican border town. Sounds like good, ol' fashioned McTiernan.
Considering the production company, I can't imagine the budget is going to be mega-high on this one, but former collaborators were coming forward and publicly backing McTiernan when the scandal was in full swing, so hopefully he'll get some sizable names volunteering his services for this "comeback" attempt. Dudes like John Hyams and Isaac Florentine have proven that with the right style and attitude, you can knock out a legit action movie with not all that much moolah, and they have all clearly drank from the McTiernan well, so I have faith he'd be able to acquit himself nicely to a relatively pared-down production.
Personally, it hits me on an emotional level that McTiernan is still willing to get back in the saddle for a gritty actioner, even if it comes out that he only took the gig just to restock his bank account after those legal hassles. He helped define the current big-budget action flick (so much that Columbia tasked him to deconstruct the genre in LAST ACTION HERO), and even when his films didn't quite hit the ground running, like BASIC, they still had an interesting energy or style that showed McTiernan wasn't just sleepwalking. He cared about his work, and I'm praying that his jail sentence (or age) hasn't weathered that enthusiasm down at all, because another badass McTiernan action flick is just what the doctor ordered.
John McTiernan - A Tribute from Alexandre Gasulla on Vimeo.
RED SQUAD is scheduled to start shooting this spring, so hopefully we'll get our eyes on some new McTiernan goodness sometime in 2015.
-Vincent Zahedi
"Papa Vinyard"
vincentzahedi@gmail.com
Follow Me On Twitter