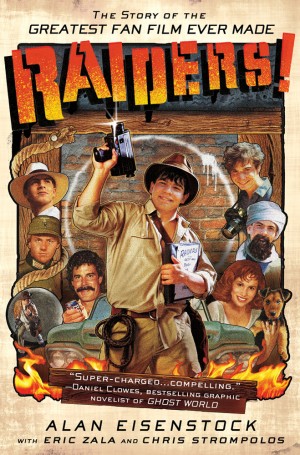 Nordling here.
If you've been reading Ain't It Cool for a few years (at least more than ten or so), you know all about this story, but if you haven't, I'll tell it again here. In 1981, back when they were kids, Eric Zala, Chris Strompolos, and friends came together to make a movie. Not just any movie, but a remake of RAIDERS OF THE LOST ARK. Now, most kids their age would have given up after a few days, but not these guys. Instead, they put forth all their efforts, shot it piecemeal, adding their personal touch, and even a giant rolling boulder, to make their film. Remember, this was before the days of the Internet, digital shooting, and about a billion fan films. These kids didn't do it for the fame, but just to see if they could.
It took them seven years. Seven years of their childhood, into their teenage years, all the way up to graduation and beyond, never expecting anyone to see this, and what was a childhood fancy became Chris and Eric's obsession. No matter what, they had to finish their film, shot and edited on videotape. Throughout the years, Chris and Eric's friendship fell apart, and they moved away from each other. And while they did finish their film, a key scene was missing. Chris and Eric were able to duplicate most of Steven Spielberg's classic film, even including scenes shot around a submarine, and the giant boulder. But they couldn't even begin to shoot one of the pivotal scenes in the film, where Indiana Jones and Marion Ravenwood try to sneak aboard a German fighter plane only to wind up destroying it.
So, years went by, until one fateful day in 2002 when Eli Roth found a copy, watched it, and was amazed by these kids' ingenuity and passion. I remember seeing it for the first time in 2002 at Butt-Numb-A-Thon, as a simple tease before we saw THE LORD OF THE RINGS: THE TWO TOWERS, and how the audience responded. They laughed and cheered at this little fan-made movie, and at these kids' brilliance and talent. In fact, their was an audible "Aww" when they had to shut it off to play the final film. This little fan movie played in front of a room full of film enthusiasts, and it went like gangbusters.
What happened next was unexpected, to say the least - Chris and Eric met Steven Spielberg, were interviewed for Vanity Fair, wrote a book about the experience with Alen Eisenstock, and the film rights were bought by Jeremy Coon for a documentary.
Eric Zala and Chris Strompolos have gone on to fruitful careers, but not shooting that final scene still bugged them. Until now.
RAIDERS GUYS AND THE LOST AIRPLANE SCENE

Cast of legendary fan film RAIDERS OF THE LOST ARK: THE ADAPTATION launch Kickstarter.com campaign to reunite after 25 years to shoot the final missing Airplane Scene!

RAIDERS OF THE LOST ARK: THE ADAPTATION, a shot-for-shot remake of the Spielberg-Lucas classic, was created by childhood friends in the 80's. It went on to became a cult phenomenon praised by Steven Spielberg himself and the subject of both book and film.

Now the filmmakers are reuniting after 25 years -- to film the final missing Airplane scene!

In 1981, in Ocean Springs, Mississippi, ten-year-old Chris Strompolos and eleven-year-old Eric Zala formed a friendship, and decided to re-make RAIDERS—every scene, every shot, every stunt —even though they had no camera, no money, and no clue how to make a movie. What they did have was a vision, sheer will, limitless imagination, and each other.

Incredibly, they realized their dream, though it took them a staggering seven years to complete their movie. By then, they had grown up, almost burned down the family home, nearly killed Eric, and stopped speaking to each other.

14 years later, their homemade homage was discovered by Eli Roth, who showed it to Steven Spielberg – who wrote them a letter of appreciation, and in a magazine interview called their film "...To this day, still the greatest bit of flattery that George [Lucas] and I have ever received." They began touring their film to sold-out audiences around the globe. The film rights to a new book, RAIDERS!: The Story of the Greatest Fan Film Ever Made by Alan Eisenstock were optioned recently by NAPOLEON DYNAMITE producer Jeremy Coon, for a documentary which is now being filmed.

This has re-inspired Eric and Chris to finally do the one scene that they couldn't pull off as kids – the Airplane Scene – 25 years after they finished in 1989.

The iconic scene, where Indy (played by Chris) fights the muscular bald Nazi amid whirling propellers, will provide a challenge – from reshaping a Mississippi dirt quarry into a desert airfield – to building a full replica of the Flying Wing airplane used in the original – and then finally blowing it all up.

To fund the fulfillment of this childhood dream, Chris and Eric will launch a Kickstarter.com campaign to raise the funds needed to begin production in April.

For the first-time ever – the public will have an opportunity to get their own copy of the rarely-seen RAIDERS OF THE LOST ARK: THE ADAPTATION. Until now, this legendary fan film was only viewable if Eric and Chris brought it to a local neighborhood theater. The filmmakers are finally making it available, exclusively, as a gift to supporters who pledge to their campaign on Kickstarter.

"People have been urging us to do the Airplane Scene for years, but more than that … to have the opportunity as adults to go back and finish something important from our childhood, to finally complete the dream we started thirty years ago…" muses Eric, "…That doesn't come around very often." finishes Chris. Their Kickstarter campaign launches Tuesday, Feb 11th at 5pm PST/8pm EST and runs for 30 days, under the project name "RAIDERS GUYS AND THE LOST AIRPLANE SCENE", at

www.kickstarter.com

.
I'm so happy for these guys. We'll have a link to their Kickstarter as soon as it goes live on Tuesday, if you're interested. And the movie they've made is something else - full of charm and wonder, and you have to admire these kids for sticking with it, and even now their tenacious never-say-die attitude is still inspiring.
These days, fan films are a dime a dozen. With iPhones, computer generated effects, and editing software, anyone can make one, with the will and the attitude. But these guys didn't have any of that, and I was honored to meet them when they finally came to BNAT a couple of years ago. For many of you, this won't seem like a big deal. But for those of us who have been following this story, it's a fitting end - and a new beginning - for these guys, and I can't wait to see how they finish it. I'm sure Chris and Eric will appreciate all the help they can get, and for those who donate, they'll be a part of something amazing. I know I will.