Coaxial
SWEEPS DAY 11!! David Letterman Chats Up THE BEATLES!! An Unwelcome Visitor To DOWNTON ABBEY!! New GIRLS, BEACHFRONT, HAWAII, KARDASHIANS, SHAMELESS, FIANCE, WIVES & AX!! Plus More Exciting Skiing, Snowboarding and Skating!! Herc's Sunday TV Talkback!!
It was 50 years ago today The Beatles played CBS' Ed Sullivan Theater, now longtime home to "The Late Show With David Letterman." Letterman interviews Paul and Ringo on that stage tonight, and to commemorate the occasion CBS restored the Sullivan marquee to what it looked like on Feb. 9, 1964.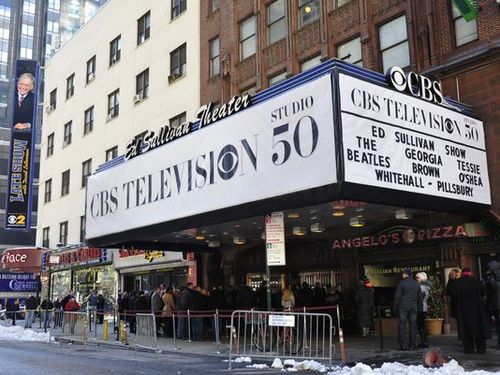 Returning tonight:
The Walking Dead (9pm AMC)
Talking Dead (10pm AMC)
Comic Book Men (11:59pm AMC)
Last Sunday's Super Bowl was the most watched TV show in history. 111 million of the 309 million people living in the U.S. tuned in. The other two-thirds of the country were otherwise occupied.
Sundays Dec. 29, 2013-Feb. 2, 2014
(Adults 18-49; repeats in gray; older weeks in parentheses)
39.3(---)(19.0) (---)(15.1) (8.0) NFL Fox
11.4(---) (---) (---) (---) (---) New Girl
6.9 (---) (---) (---) (---) (---) Brooklyn Nine-Nine
1.1 (---) (---) (---) (---) (---) NFL Primetime
1.0 (---) (---) (---) (---) (---) NCIS
1.0 (---) (---) (---) (---) (---) Puppy Bowl
0.9 (---) (---) (---) (---) (---) Shark Tank
0.7 (---) (0.9) (---) (---) (---) NBC Movie
0.6 (0.5) (0.6) (0.6) (0.9) (0.6) Cutthroat Kitchen
0.6 (0.9) (0.8) (0.9) (---) (---) Shameless
0.5 (1.5) (0.9) (1.0) (1.6) (1.1) AFH Videos
0.4 (---) (0.8) (---) (1.3) (---) Dateline
0.4 (---) (0.7) (1.8) (1.6) (---) The Mentalist
0.4 (2.0) (1.3) (4.0) (1.3) (1.7) 60 Minutes
0.3 (---) (0.7) (1.8) (1.4) (---) The Good Wife