Papa Vinyard here, now here's a little somethin' for ya...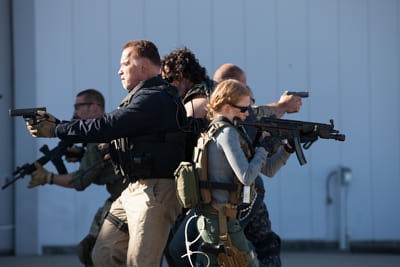 We got our first real look at the newest Arnold Schwarzenegger flick, David Ayer's SABOTAGE, back in November, and now, we get to really see how extreme things get for Arnie & Co. as they go up against the cartels, thanks to this IGN-debuted red-band trailer. I was onboard from the second I saw tatted up Arnold with that 'do and the tactical weaponry, but the cast and Ayer's direction seem to distinguish this from the last couple of so-so Arnie "comeback" jams. But it's nice to know that the big guy (and the other cast members) were willing to get down and dirty in this one.
What you guys think? Is this a good use of the Austrian Oak, or should we just blackmail him into doing LEGEND OF CONAN already?
SABOTAGE is trying to tell you now it's coming out on March 28th.
-Vincent Zahedi
"Papa Vinyard"
vincentzahedi@gmail.com
Follow Me On Twitter