Papa Vinyard here, now here's a little somethin' for ya...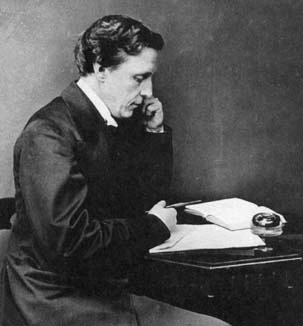 Seth Gordon isn't takin' it easy at all these days. He has the Jason Sudeikis-Charlie Day vehicle ONE NIGHT ON THE HUDSON in development, he just signed on for Sony's UNCHARTED, and now, Deadline has the news that he's also been asked with directing first-time writer Stephanie Shannon's 2013 Black List-winning script, QUEEN OF HEARTS.
QUEEN OF HEARTS tells the story of Lewis Carroll, and the tumultuous love affair that inspired him to write Alice's Adventures in Wonderland. It sounds a little bit like FINDING NEVERLAND or, as JoBlo mentioned, the C.S. Lewis biopic SHADOWLANDS, but for this script to have gained the momentum it has, I'm thinking there's a unique angle on the narrative we haven't heard yet.
Just as he hasn't done anything like UNCHARTED before, this will be Gordon's first go-around in both the biopic and fantasy genres (although KING OF KONG got into the stories of Steve Wiebe and Billy Mitchell informatively and with a ton of humor). Based on the premise alone, I think it's safe to say his "revisionist fantasy" film will have a different feel than the MALEFICENTs and SNOW WHITEs out there, let alone Tim Burton's own ALICE movie. Gordon's got two and a half years to crank this one out before the sequel to that film comes out in May '16; not like that's an obligation, but it'd be a nice complement to that series if this film came out before that franchise ended.
Many have us had faith in Gordon's talents before he started making successful studio comedies out of HORRIBLE BOSSES and IDENTITY THIEF, and it's really cool to see him branching out this way. I have faith that he will deliver on both the video-game movie and the look-at-a-tortured-artist-creating-his-masterpiece biopic fronts.
Who would you want to see playing Carroll?
-Vincent Zahedi
"Papa Vinyard"
vincentzahedi@gmail.com
Follow Me On Twitter