Papa Vinyard here, now here's a little somethin' for ya...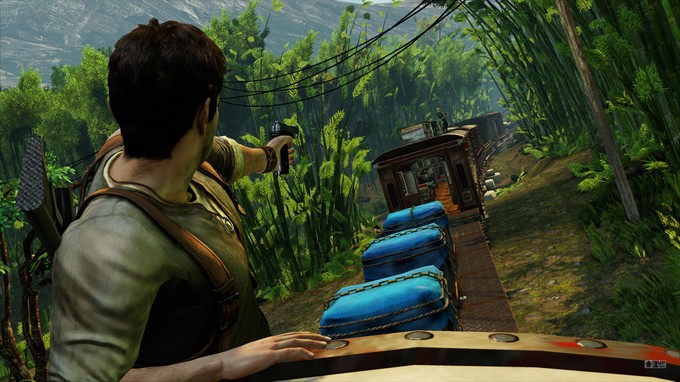 Seth Gordon left the HORRIBLE BOSSES game for Sean Anders to try his hand at helming the sequel, and now, I think we know what he's got on his plate next, and it doesn't look like it'll be the Jason Sudeikis/Charlie Day reteam ONE NIGHT ON THE HUDSON. The Wrap has just reported that Gordon, who made his bones on the popular video game doc THE KING OF KONG, has been tasked with translating the adventures of UNCHARTED's Nathan Drake onto the big screen.
For the uninitiated, the UNCHARTED series is one of the largest Playstation-exclusive titles Sony has right now, and has sold 17 million copies over the course of three PS3 games (with a fourth coming out soon for PS4). It follows Nathan Drake, a treasure hunter in the Indiana Jones/Lara Croft mold who's a descendant of explorer Francis Drake, as he braves the elements and competing marauders in his search for priceless artifacts. His mentor, Sully, often assists him on his quests, which, in the games, have taken him from South America to Nepal and, most recently, the Arabian Desert.
No word on which (if any) of the games writer David Guggenheim (SAFE HOUSE, STOLEN) is basing his story on, or who Sony has in mind to play Drake (I guess Fassbender is out), but I'm super-stoked that Gordon is joining Dunan Jones and Daniel Espinosa in trying his hand at a big-budget video game adaptation. He obviously knows his stuff in regards to gaming, and the successes of both HORRIBLE BOSSES and IDENTITY THIEF showed that he has a knack for connecting with audiences, so the only question is his talent for staging high-energy action sequences and maintaining the breakneck pace of a thriller (although KING OF KONG advocates could argue that he's already done that). I have faith that Gordon's main priority will be to accurately convey the breakneck thrills of the video game in a cinematic fashion, and if he didn't think he could do it, I doubt he would've taken the gig.
Who they get to play Nathan Drake will obviously play a huge part in getting fans excited, as well as the logistics of the production/marketing, but many of us can rest safely knowing the property is in the hands of a gifted, clever, and clearly passionate director.
How do you UNCHARTED fans feel about this? Is Gordon "one of the good ones", or would you prefer someone with more action experience helming the first onscreen adventure of Nathan Drake?
-Vincent Zahedi
"Papa Vinyard"
vincentzahedi@gmail.com
Follow Me On Twitter