Hey guys! Horrorella here...
After an impressive and hilarious partnership as drug-fueled douchebags in THE WOLF OF WALL STREET, Leonardo DiCaprio and Jonah Hill look to be teaming up on another feature. Deadline reports that the actors will both take part in a film based on the case of Richard Jewell, the security guard who discovered a bomb planted at the Summer Olympics in Atlanta in 1996. At first, authorities and the media called him a hero, thanking him for averting disaster by discovering the device and helping to evacuate the area before it detonated.
It didn't take long for the story to spin out of control, with FBI treating him as a possible suspect and the media running with any information they could find (no matter how flimsy), branding him a terrorist, camping outside his home and destroying his reputation, until his name was finally cleared months later.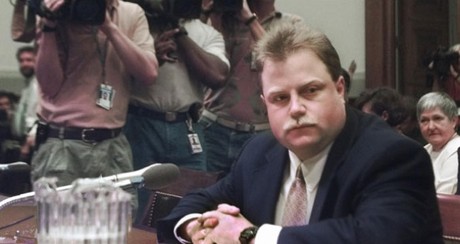 Hill will be playing the role of Jewell, with DiCaprio cast as Watson Bryant, his attorney (who, up until this incident, had handled mostly real estate deals). No information is available regarding who will be penning the script or directing the project, though it is noted that DiCaprio is on board as producer.
It definitely has the potential to be an interesting film, given the fact that it covers a lot of interesting ground in the demonization of an innocent man, as well as the illustration of a media frenzy whipped completely out of control.