Hey guys! Horrorella here...
JODOROWSKY'S DUNE made a huge impact on the festival circuit last year, and is one that I can't wait to see. It covers the early production of filmmaker Alejandro Jodorowsky's (EL TOPO, THE HOLY MOUNTAIN) doomed attempt at adapting Frank Herbert's classic sci-fi novel Dune, back before production was turned over to David Lynch, creating the version that we all know today.
Collider has premiered a brand-new poster that really highlights the concept of "what might have been." I'm not the biggest fan of Jodorowsky's films, but it's impossible to deny that he is a visionary director, and that his iteration of Dune would have been drastically different from anything we have seen since.
From the sound of it, this doc is for everyone - sci-fi fans, film nerds, Jodorowsky fanatics, cinema historians - everyone. It's opening on March 21st.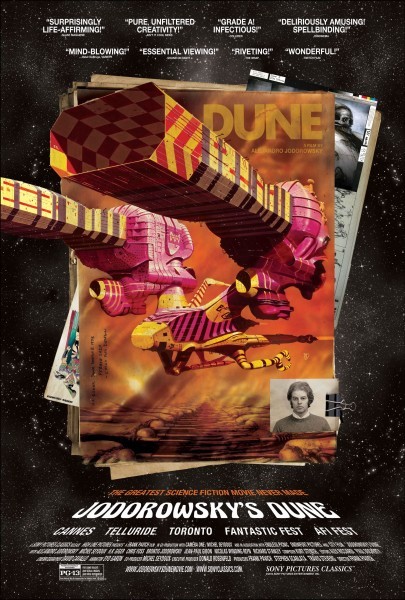 Through interviews with legends and luminaries including HR Giger (artist, ALIEN), Gary Kurtz (producer, STAR WARS) and Nicolas Winding Refn (director, DRIVE and ONLY GOD FORGIVES), and an intimate and honest conversation with Jodorowsky filmed over the course of three years, director Pavich's film – featuring never-before-seen realizations of Jodo's mind-blowing psychedelic space opera (animated by Emmy Award nominated Syd Garon) – finally unearths the full saga of 'The Greatest Movie Never Made'.