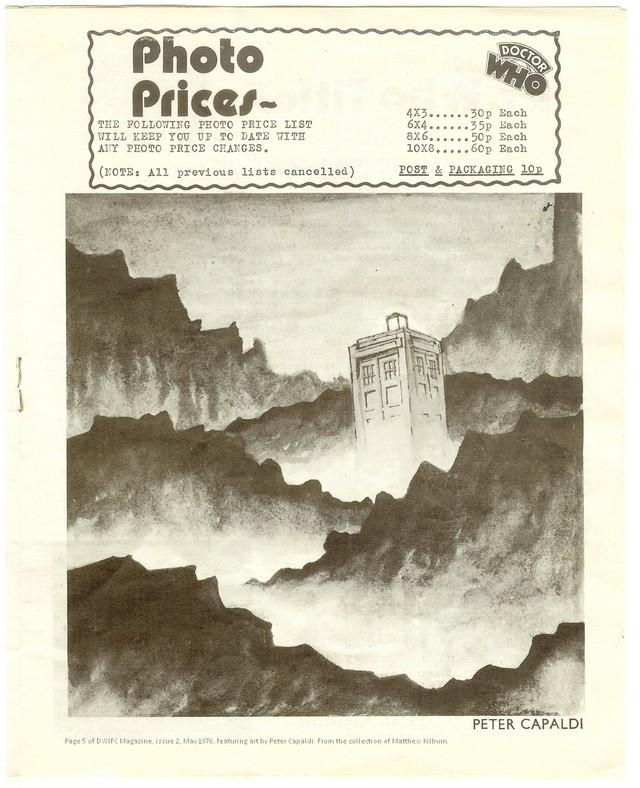 [via]
Glen here…

…with a round-up of news bits from the WHOverse. It has been a while sine we covered older 'classic' WHO titles. We have not forsaken these - not by a long shot. Look for these reviews to return in the very near future. Very near.

This week, HornOrSilk is here with a look at the King of Sontar Big Finish Audio, and we'll revisit our first look at the reveal of Peter Capaldi in his Doctor garb…along with set images and video from the currently filming episode. There are also rumors…interesting rumors…which may be worthy of discussion in the Docback below. These rumors are preceded by a spoiler tag and countdown.
HORNORSILK REVIEWS THE KING OF SONTAR BIG FINISH AUDIO

========================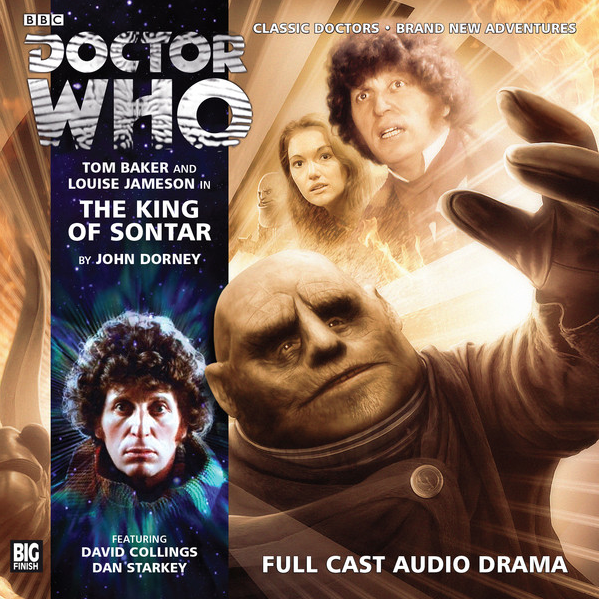 Fourth Doctor Adventures 3.01 The King of Sontar
Written By: John Dorney

It should be obvious to any casual Doctor Who fan, the Sontarans have become the third most influential alien species in the show, following the Daleks and Cybermen in rank. This is in part because of how often they are used, not just in the televised show, but in Big Finish audios as well. And here we find Dan Starkey has become to the Sontarans what Nicholas Briggs has become for the Daleks and Cybermen.

Some might wonder what more there can be done with the Sontarans, especially since they have become comic relief in the televised show. Thankfully, Big Finish has allowed for that comic side of the Sontarans to be picked up and explored, so we have seen, in other adventures, despite being a clone species, the Sontarans have a wide variety of clone batches with differing personalities, and the comic relief Sontarans tend to be denigrated by the Sontarans themselves (not, of course, without understanding that even they have their uses and values and so their clone batches continue to be made).

We have heard (and seen little) of the Sontaran battle with the Rutans. Outside of the Time War (in which, I am sure, the Sontarans had a minor role), this is the longest standing war in the known Doctor Who universe, and, like the Time War, it is something we hear about more than we see. Yet, in this audio, we are given something new: a kind civil war within the Sontaran Empire itself. This is why the Sontarans, despite their constant use, have not worn out their welcome: there is more to be done with them, and this audio's strength is with its premise.

What will happen is something goes wrong with a Sontaran clone batch, where, instead of producing a lot of clones, it produces an individual which has the power and strength of many such Sontaran individuals? That is what we have here, in the would be king of the Sontarans: he is tall, he is powerful, and the normal weaknesses of the Sontarans do not work against him. He feels he has a destiny to create a new Sontaran dynasty in his more powerful visage. To do this, however, he makes war against his own kind, and seeks to destroy Sontar itself.

The Doctor finds himself, apparently under the forced guidance of the Time Lords (without proof), to deal with this new Sontaran threat, with Leela as his companion. The Doctor does not entirely know what is going on until he meets with Strang. The Doctor is forced to work for Strang, to help him in his supposed destiny to create a new Sontaran empire, while he tries to find a way to stop Strang and save the Sontarans from one of their own. Leela, taken away from the Doctor, finds herself allying up with Strang's enemies, finding a camaraderie with a Sontaran which differs from the camaraderie we see in new Who with Strax and yet complements it, because it shows the respect Sontarans can have for non-Sontarans comes in many forms as long as the circumstances suit them.

To me, the weakness of this story is that it felt short, that it brought forth good ideas, but used them in a story which should have been told over two cds (with more twists and turns) instead of one. This meant that the best part of the story was the set up, but there was little to do beyond the set up and the fight which comes out of it. Yes, there are a few other things (which I am not mentioning so as to keep something fresh for the listener reading this review), especially at the end, which are of interest and of mild surprise, though the impact is less than it should be because we know the "fate" of Leela. I also wish that this audio could have referenced Strax in some way, to have a version of Strax show up, if for no other reason, to give more depth to the history of his clone batch, but I know Big Finish can't do that.

I would say, given the ideas, but also, how little they could be used, I would rare this one 7/10. If it were a two-cd story, turning the ideas into an epic format (perhaps with some Rutans, some winks to New Who) I think it could have achieved a 9/10. Alas what might have been.

— HornOrSilk

========================





BEHOLD AN EPISODE-LENGTH FAN FILM: DOCTOR WHO: AN IMPERFECT WORLD

But it's not in English. Allegedly there's version of this which includes subtitles. If you can figure out where it is, or where the subtitles have run off to, you're a better person than I - and please drop a link in the Docback below.
CAPALDI COSTUME REVEALED - VERY HIGH RES IMAGE

In case you missed the very High Res upgrade I added to my announcement article earlier this week…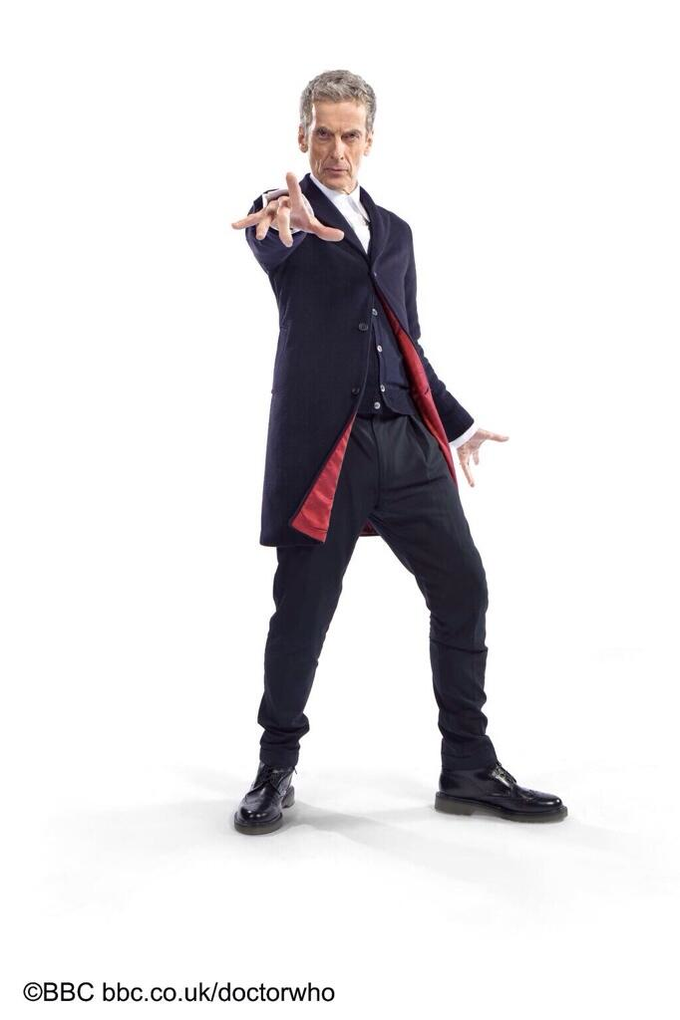 I really like this costume. Although, while I 'get' the reason of this pose and the fact that it pointedly evokes a Jon Pertwee publicity image from back in the day, the pic and its 'display of costume' is still a tad unnatural. Seeing Capaldi in costume and on-set via the various spy photos which have leaked this week, though? Sure does look wicked, wicked cool. Speaking of which…
10
09
08
07
06
05
04
03
02
01



******** RUMORS AND POTENTIAL SPOILERS BELOW ********
TONS OF SPY PHOTOS FROM CAPALDI FILMING DOCTOR WHO SEASON/SERIES 8

You can find one batch HERE, including what I believe was our earliest photo of the new Doctor and his TARDIS.

AICN reader Paula snapped some images of the same shoot…we appreciate her taking the time and making the effort to send them in!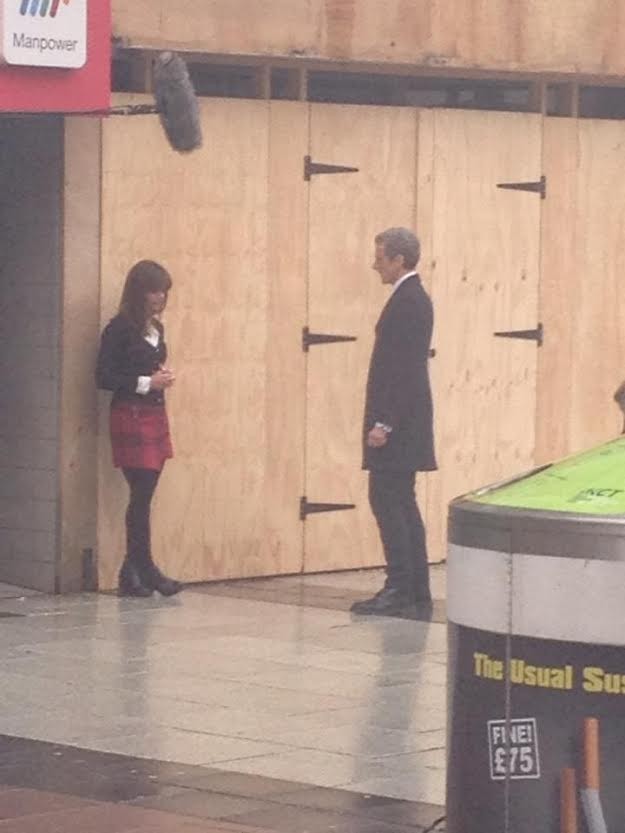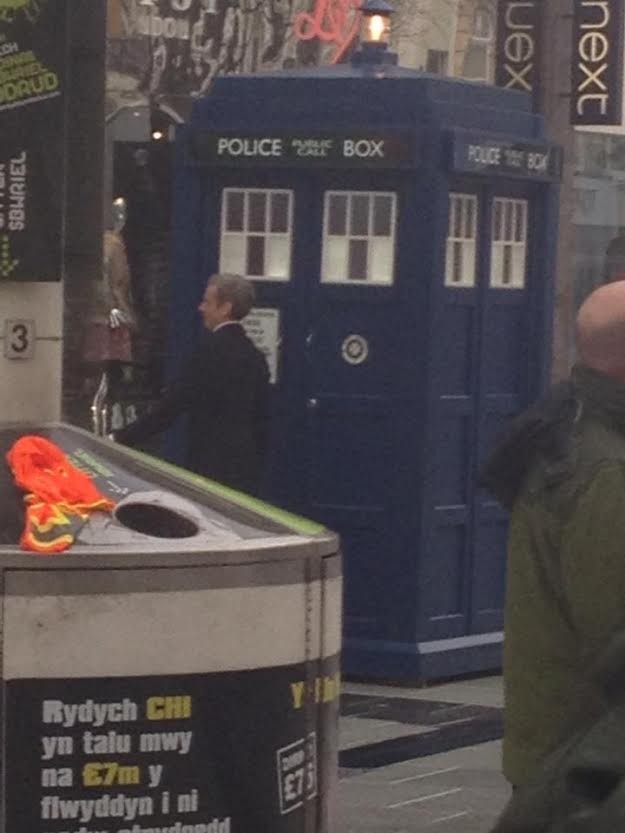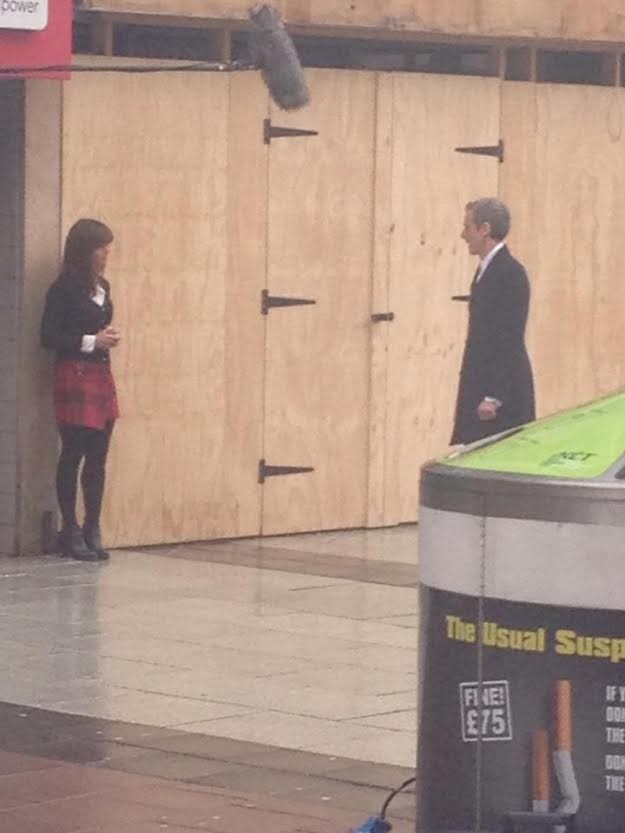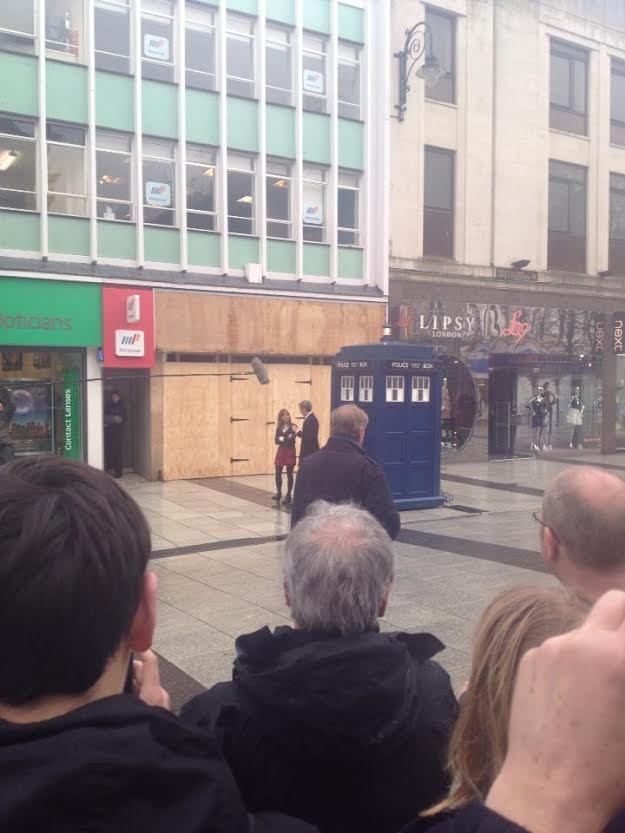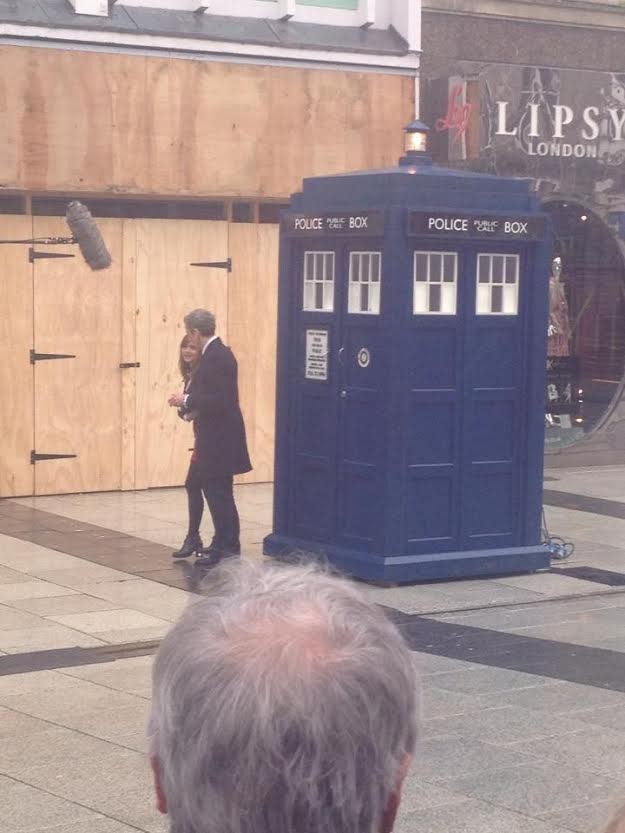 Video of this moment was also captured...
MAGES OF A NEW SEASON/SERIES 8 VILLAIN CAN BE FOUND HERE

Allegedly it's Jack the Ripper, and (if my understanding is correct) some sequences being filmed involve Ripper murder scenes.

If such rumors flesh out, and there's evidence to support that they are indeed correct, the presence of the Ripper so early on might herald the tougher and edgier Doctor stories many of us were hoping would be brought to the table alongside the coming of Capaldi. I mean, Capaldi-vs- Jack the Ripper? How badass is that?

Keep in mind, in one Matt Smith episode, Vastra mentions having dispensed with Jack the Ripper. Which either means: 1) these Ripper rumors are false, 2) the Ripper gets away in this episode, or 3) a continuity sleight-of-hand may be required to bridge her Ripper reference from the Smith era to the events of this episode. Which is certainly not inconceivable.
MATT SMITH VOICE APPEARANCE ON SEASON/SERIES 8??

According to THIS piece, Matt Smith's Doctor calls Clara from Trenzalore after his regeneration is set into motion, but before he's gone Capaldi. Could be a fun, unique, and marketable gag which might comfort those still struggling to accept Smith's absence.





—————-

Glen Oliver

"Merrick"

- e-mail

- Twitter

- Google +





DOCBACK CODE OF CONDUCT



1) a Docback should be about completely open and free discourse regarding all things WHO with, obviously, some variation on subject matter from time to time - the real world intervenes, discussions of other shows are inevitable, etc.)...

2) converse, agree, disagree, and question as much as you want - but the freedom to do so is NOT a license to be rude, crass, disrespectful, or uncivilized in any way. Not remaining courteous and civil, as well as TROLLING or undertaking sensational efforts to ignite controversy, will result in banning. Lack of courtesy may receive one (1) warning before a ban is instigated. Obvious Trolling or Spamming will result in summary banning with no warning.