Papa Vinyard here, now here's a little somethin' for ya...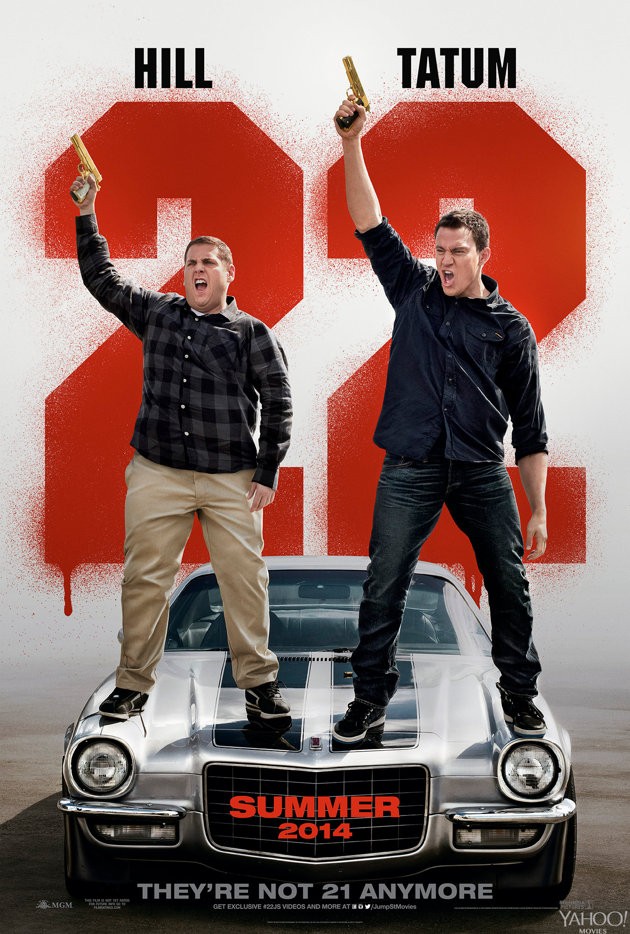 Yahoo has premiered a new poster for 22 JUMP STREET, and it's as simple as it gets. Jonah Hill, Channing Tatum, 2 gold-plated handguns, ready-to-kick-ass faces, and a big-assed 22 in spray-painted red lettering behind them. Economic, eye-catching, and exciting. I even like the tag-line, "They're not 21 anymore." It's not Oscar Wilde or anything, but it's clever enough while still getting across that this is a direct sequel to that film.
I wasn't crazy about the first film, but its energy and the enthusiasm of the leads were both things that totally worked for me, so I'm happy to see them continuing to emphasize that this time around. I hope there's more of that anarchic spirit in the actual film, and less of this "Jenko and Schmidt learn how to sustain real, mature relationships" stuff I keep reading about.
Does this rev you up for another go-around with Hill, Tatum, and Cube, or should they have parted ways after high school?
22 JUMP STREET comes to your block on June 13th.
-Vincent Zahedi
"Papa Vinyard"
vincentzahedi@gmail.com
Follow Me On Twitter