Papa Vinyard here, now here's a little somethin' for ya...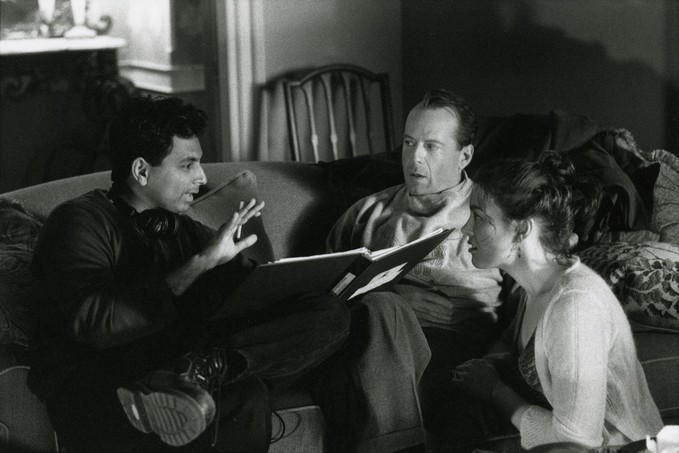 So Bruce wasn't kiddin' when he said he was moving away from action projects. After rolling out RED 2, G.I. JOE: RETALIATION, and A GOOD DAY TO DIE HARD over the past year (not to mention EXPENDABLES 2 and LOOPER in '12), Bruce Willis has started signing on to a bunch of movies that don't really fit in that wheelhouse. He's doing ROCK THE KASBAH with Bill Murray and Barry Levinson, that enclosed-space thriller CAPTIVE, the John Cusack co-starrer THE PRINCE, the android-prostitute sci-fi flick VICE, and now, Deadline reports that he's re-teaming with one of the directors most proficient in beating a good performance out of him, Mr. M. Night Shyamalan.
The project, called LABOR OF LOVE, was one of the first scripts Shyamalan ever sold back when he was a struggling screenwriter in the early-to-mid 90s. It has Bruce playing a widower (in Philadelphia, surprise) who decides to fulfill a promise to his wife that he'd walk across country in her honor. It sounds heavily romantic and melodramatic, and I don't think we've really seen Bruce doing anything like this, so I'm intrigued. Even though M. Night's had a rough couple of…let's say a rough decade or so, let's not forget that THE SIXTH SENSE and UNBREAKABLE were pretty awesome flicks, and that Bruce worked like gangbusters in both. Given his reputation for being difficult on set and having an attitude, I'm elated that he's really taking his next stage as an actor seriously, and doesn't want to continue being reliant on that legendary smirk and head-turn.
It's not UNBREAKABLE 2. Hopefully they have such a bonkers time working together on this one that they say "Fuck it," and just jump into that immediately after. We must demand it of them!
-Vincent Zahedi
"Papa Vinyard"
vincentzahedi@gmail.com
Follow Me On Twitter