Papa Vinyard here, now here's a little somethin' for ya...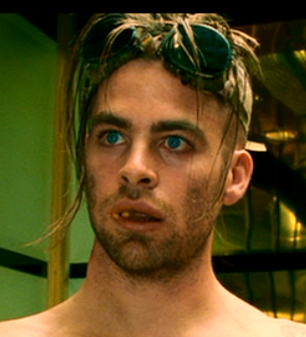 Hot off the heels of the trailer for his latest movie, JOE, David Gordon Green has lined up a leading man for his next project. The Hollywood Reporter announced that Chris Pine will star in Green's THE LINE, a thriller about a fallen agent's attempt to protect a ten-year-old from murderous cartel and government figures. It was written by Sang Kyu Kim, who's worked on THE WALKING DEAD and the CRASH TV show. They're going to shop it around next month at the Berlin Film Festival, so we should hear more details on the project (and its production details) then.
Pine hasn't really proven himself to be a box-office draw outside the STAR TREK franchise, but he has a certain charm both in his weirder SMOKIN' ACES/BOTTLE SHOCK roles and the more typical JACK RYAN leading man gigs. I'm excited to see him in Joe Carnahan's STRETCH (whenever it gets a legitimate U.S. release), and I have high hopes for him working with Green. Green is the dude who proved to us that there was much more to James Franco than what we'd seen prior to PINEAPPLE EXPRESS, so maybe he can do the same for Pine here.
I just hope that this PRINCE AVALANCHE/JOE David Gordon Green is sticking to his indie GEORGE WASHINGTON roots, and has swallowed whole the Green that directed THE SITTER. Nobody wants that shite. On the flip side, if you defend YOUR HIGHNESS, my quarrel's not with you ma'am/sir.
-Vincent Zahedi
"Papa Vinyard"
vincentzahedi@gmail.com
Follow Me On Twitter