Hey guys! Horrorella here...
As the March 11th premiere date of FROM DUSK TILL DAWN: THE SERIES edges closer, we've got a couple of stills from the El Rey Network's highly-anticipated new series.
The pics highlight a couple of moments with the Seth (D.J. Cotrona) and Richie (Zane Holtz). Pictured with Richie is also the infamous Santanico Pandomonium (played here by Eiza Gonzalez).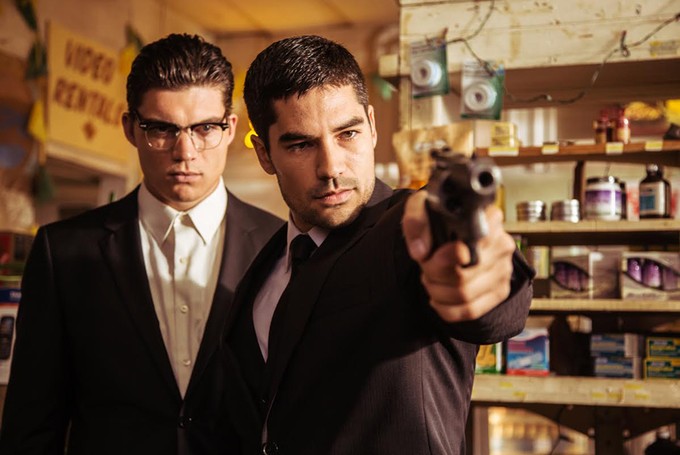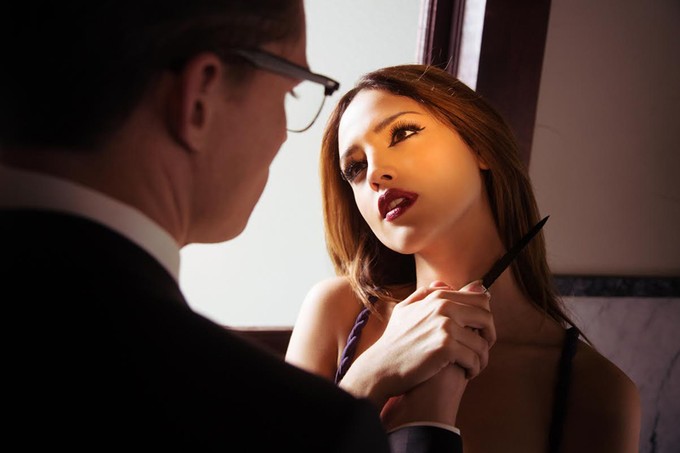 It looks like Robert Rodriguez, who directed the original film, is pulling out all the stops with this adaptation, taking on directing duties for three of the 10 episodes himself, and enlisting the assistance of Eduardo Sanchez (THE BLAIR WITCH PROJECT, LOVELY MOLLY) and Joe Menendez (THE BROTHERS GARCIA) on episodes as well. Additionally, special effects genius and madman Greg Nicotero will be overseeing all of the make-up work.
Full details in the press release below. What do you guys think? Are you excited for this one?
El Rey Network plans to take viewers on a wild ride with the highly-anticipated, one-hour premiere of "From Dusk Till Dawn: The Series" on Tuesday, March 11th at 9pm ET/PT. The series, created and executive produced by network Founder and Chairman, filmmaker Robert Rodriguez, is based on the cult classic film of the same name. The 10-episode series will serve as the first scripted original to air on the network.

Rodriguez, who will direct the first, second and fourth episodes, has enlisted fellow award-winning filmmakers, Eduardo Sánchez (The Blair Witch Project) and Joe Menendez (The Brothers Garcia, Hunting of Man, Ladron) to direct episodes three, and five, respectively. Emmy-Winning Special Effects wizard Greg Nicotero (The Walking Dead) will oversee make-up effects for the series. As previously announced, Nikita executive producer Carlos Coto is the showrunner.

The supernatural crime saga (based on the cult classic film of the same name) will feature an international cast including: D.J. Cotrona (Dear John, G.I. Joe: Retaliation); Zane Holtz (Holes, The Perks of Being a Wallflower); Jesse Garcia (Quinceañera, Sons of Anarchy); Eiza González (Lola: Érase Una Vez); Wilmer Valderrama (That '70s Show, To Whom It May Concern); Adrianne Palicki (Friday Night Lights, G.I. Joe: Retaliation); Jake Busey (Starship Troopers, Enemy of the State, Identity); Don Johnson (Django Unchained, Nash Bridges); Madison Davenport (Save Me, Shameless); Lane Garrison (Bonnie & Clyde, Prison Break); Robert Patrick (Terminator 2: Judgment Day, The X-Files); and Brandon Soo Hoo (Tropic Thunder, Ender's Game, Incredible Crew).

Based on the thrill-ride film, "From Dusk Till Dawn: The Series" is a supernatural crime saga centered around bank robber, Seth Gecko (Cotrona) and his violent, unpredictable brother, Richard "Richie" Gecko (Holtz), who are wanted by the FBI and Texas Rangers Earl McGraw (Johnson) and Freddie Gonzalez (Garcia) after a bank heist leaves several people dead. While on the run to Mexico, Seth and Richie encounter former pastor Jacob Fuller (Patrick) and his family, whom they take hostage. Using the family RV to cross the border, chaos ensues when the group detours to a strip club that is populated by vampires. They are forced to fight until dawn in order to get out alive. The series deepens the tone and expands the storyline of the film, adds new characters and backstories, and explores the Mesoamerican mythology behind the creatures inside the club.

"From Dusk Till Dawn: The Series" is an El Rey Network production in association with FactoryMade Ventures. Executive producers are Robert Rodriguez, Carlos Coto (who is also showrunner) and FactoryMade Ventures and El Rey Network co-founders John Fogelman and Cristina Patwa. Diego Gutierrez is writer and co-executive producer. Robert Rodriguez will direct the first, second and fourth episodes. Miramax, producing studio and distributor of the original film, is distributing the series internationally in all territories with the exception of Canada, China, India and UK.

# # #
About El Rey Network:
El Rey Network, launching December 2013, is a new 24-hour English-language network founded by maverick filmmaker Robert Rodriguez. Curated by Rodriguez and his artistic collective, the network will unite the most culturally diverse generation in history through fearless, badass and original content that awakens the renegade in everyone. The network's action-packed content is anchored by original signature dramas, feature films, grindhouse genre, cult classic action, horror/sci-fi and next-generation sports. El Rey Network LLC (www.elreynetwork.com) is jointly owned by Robert Rodriguez and FactoryMade Ventures with a minority stake held by Univision Communications Inc.

About FactoryMade Ventures:
FactoryMade is an incubator for entertainment businesses and was founded by John Fogelman and Cristina Patwa. The company builds IP-based franchises and production and distribution platforms by leveraging its strong ties to the Hollywood creative community and partnering with global brands and investors. Its ventures include El Rey Network and Tres Pistoleros Studios with Robert Rodriguez and a joint venture with the leading Mexican wrestling league Lucha Libre AAA. In addition to working with corporate partners such as Telefonica and JCP, they previously spearheaded the creation of Hasbro's film business (Transformers, G.I. Joe, Battleship) and television business (Hasbro TV Studios, the Hub Network with Discovery Communications), and developed retail's first integrated digital gaming and commerce platform with HSN (HSN Arcade).