Papa Vinyard here, now here's a little somethin' for ya...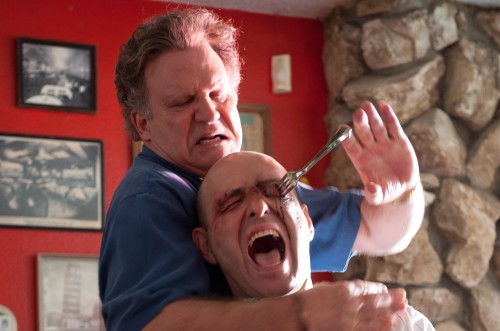 I don't care if it's for a walk-on with a line of dialogue or as the leading man, but having Albert Brooks in your movie can only be a good thing. Obviously, he's still funny (and, as his recent book 2030 proved, still sharp as a tack), but DRIVE proved that he can do wonders when he stretches out his wings and leaves his comfort zone. We'll see if J.C. Chandor can bring out that darker, more unpredictable side of him in his next movie, because Deadline reports that Brooks (real name Albert Einstein…I swear to God) is joining Oscar Isaac and Jessica Chastain on A MOST VIOLENT YEAR.
The movie has Isaac and Chastain, as a high-powered oil tycoon and his wife, getting involved with nefarious characters trying to push him out of his business. Brooks will play his lawyer, so hopefully Isaac's character is frequently "dodging the pen", as Jay-Z would say, so the legendary comedian gets plenty of screentime.
I wonder if Brooks is taking the part originally meant for Stanley Tucci, but if he is, i can't say it's a bad call. I mean, I love Tooch and all, but between his HUNGER GAMES stint and his indie gigs, we get plenty of him these days. We never get quite enough of Brooks (even on Twitter), so any helping of his talent is a hearty one.
-Vincent Zahedi
"Papa Vinyard"
vincentzahedi@gmail.com
Follow Me On Twitter