Papa Vinyard here, now here's a little somethin' for ya...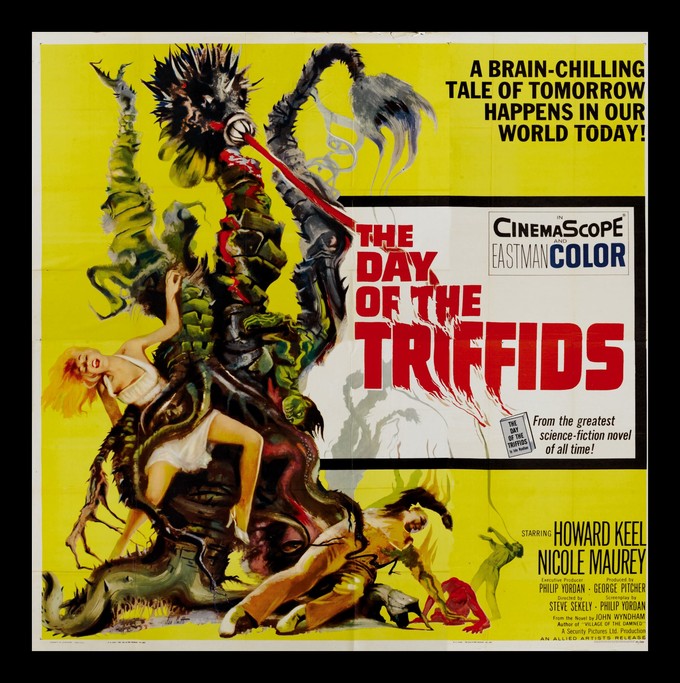 Considering it's mostly famous as a 50 year old British horror film, THE DAY OF THE TRIFFIDS has gotten a lot of update attention over the past few years. There was a BBC miniseries with Brian Cox and Eddie Izzard back in '09, there have been plans by Don Murphy and Sam Raimi to remake the film for cinemas, and now, Deadline reports that Mike Newell has signed on to direct the latest adaptation of John Wyndham's 1951 novel.
Neil Cross, creator of BBC One's LUTHER and writer on the Guillermo Del Toro-produced MAMA, is scripting the film, which tells the story of a killer breed of plant that runs rampant after a meteor shower blinds the entire world. Newell, whose HARRY POTTER AND THE GOBLET OF FIRE remains one of the more memorable of that series (alongside Guillermo's, of course), has shown a talent for the big-scaled adventure thing, as well as killing it with more low-key movies like DONNIE BRASCO and FOUR WEDDINGS AND A FUNERAL. I'm curious to see what he does with this quite-British sci-fi property, and if the updates he makes to the material stay true to the source, or render it into something new entirely (as the remakes of INVASION OF THE BODY SNATCHERS, WAR OF THE WORLDS, and THE THING FROM ANOTHER WORLD tend to do).
What do fans of the book/original movie think? Is Newell a good choice for the material?
-Vincent Zahedi
"Papa Vinyard"
vincentzahedi@gmail.com
Follow Me On Twitter