Papa Vinyard here, now here's a little somethin' for ya...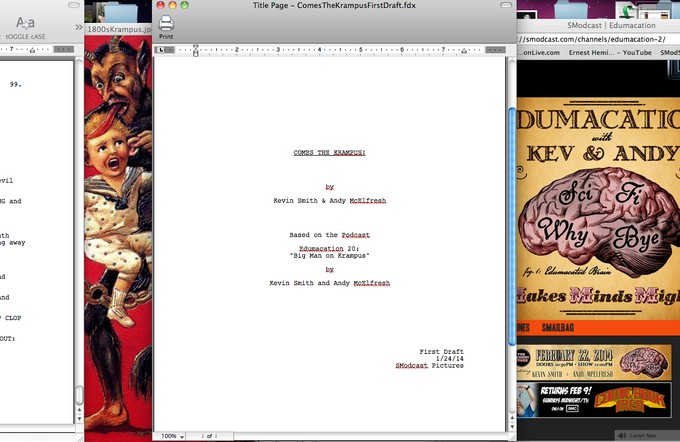 Once upon a time, Kevin Smith said he was going to retire from feature filmmaking to kick back, get high, manage his SModCo empire, and leave the scrambling-around-trying-to-be-creative to the next generation. I don't think it's a stretch to say that he's reneged on that statement, having done TUSK, lined up CLERKS III, and announced a film called HELENA HANDBAG for the immediate future. Now, according to his blog, he's got yet another project he's taking on, a horror anthology called COMES THE KRAMPUS! that he co-wrote with WHITE CHICKS writer Andy McElfresh.
The film, "essentially SModCo's CREEPSHOW", will have one story directed by Smith, himself (a segment entitled "Mask Maker"), and the rest will be directed by his SModCo collaborators, including his wife Jennifer Shwalbach and his other wife Jason Mewes. He's gonna get going with it as soon as he wraps CLERKS III, which he's aiming to start shooting in April. Smith's exact words.
"It took us less than a month, but Andy and I have finished the screenplay for a flick we're calling COMES THE KRAMPUS! It's 99 pulse-pounding pages of what's essentially SModCo's CREEPSHOW, with four terrifying tales stitched together by a freaky framing device. It was a blast to write and totally new to me, as I never actually wrote a screenplay WITH someone else before.

And now, to extend the spirit of collaboration even further, I'M GONNA CO-DIRECT THE FLICK WITH THE SMODCO FAMILY! Andy McElfresh will direct the "The Krampus vs. The 3rd Grade" episode (SO fucked up), Jason Mewes (yes – THAT Jason Mewes) will direct the "Hitler's Krampus" episode (twisted period piece), I will direct the "Mask Maker" episode (the Gothic horror piece), Carol Banker will direct the "The Proposal" episode (which is fucking nuts), and Jennifer Schwalbach will direct "The Bad Babysitter" – which is the framing device that holds the whole mess together. Jordan Monsanto will produce for SModcast Pictures and the twin SModCo cherries on the top of this scary sundae? I'm gonna force my Bro Scotty Mo(sier) to act in it and Babble-Meister RALPH GARMAN will feature in every episode!

The script reads like it's maybe a $2 million movie. We'll start doing a schedule and a budget next week, but the idea is to shoot it right on the heels of CLERKS III (which I'm hoping to start on April 7th). It's gonna be fun and a true SModcast Picture! There's something to be said for the power of podcasting…"
I love CREEPSHOW to death (and even hold a soft spot for the sequel…the first one at least), and I usually dig even the weaker horror anthologies (like H.P. LOVECRAFT'S: NECRONOMICON) if they have one or two cute stories, so I'm really curious to see Smith try his hand at that genre. True, he's only directing one segment, but his writing fingerprints will be on the whole thing. Let's just hope his co-writer McElfresh hasn't softened up after years of writing for Leno on THE TONIGHT SHOW.
So, people…are we done with Smitty, or are we excited to hear that he's got another flick in the pipeline?
-Vincent Zahedi
"Papa Vinyard"
vincentzahedi@gmail.com
Follow Me On Twitter