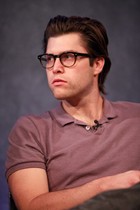 It looks like Jane Curtain will remain Weekend Update's only solo female anchor, at least for the foreseeable future.
Colin Jost, SNL's head writer since 2012, will join Cecily Strong at the desk starting March 1. Seth Meyers' final SNL as a regular airs Feb. 1.
A former editor of the Harvard Lampoon, Jost will become the third SNL head writer to host Update, following Meyers and Tina Fey.
Jost joined SNL right after graduating Harvard University in 2005. He's written for recurring Update characters including The Girl You Wish You Hadn't Started a Conversation With at a Party, Second-hand News correspondent Anthony Crispino and Drunk Uncle.
He's also performed stand-up on Comedy Central's "New York Stand Up" and "Late Night With Jimmy Fallon."
Jost wrote and appears in the upcoming Paramount lifeguard movie "Staten Island Summer," which was directed by longtime SNL film-segment director Rhys Thomas and stars Ashley Greene, Gina Gershon, Kate Walsh, Bobby Moynihan, Method Man and Mary Birdsong.