Papa Vinyard here, now here's a little somethin' for ya...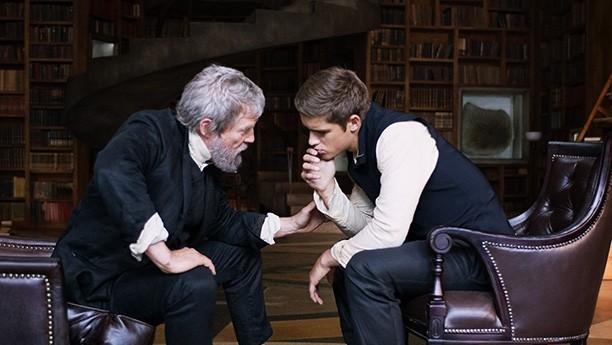 We have our first look of Philip Noyce's adaptation of Lois Lowry's THE GIVER, courtesy of EW.com. In the first pic, we see Jeff Bridges' titular Giver confiding some knowledge to his young protege, played by Brenton Thwaites. The second is presumably from the back half of the film, where Thwaites' Jonas escapes his dystopian society with a young baby named Gabriel in tow.
I was a HUGE fan of The Giver as a kid, and this is apparantly something of a passion project for Bridges (his role was originally intended for his father, Lloyd, giving you an idea of how long this was in development), so I'm super-excited to see how much of it matches up to my own vision for the movie adaptation of the book. It's a potent, relevant story with a fascinating spin on the idea of an emotionally-repressed future, and has an elegance and heart to it that's not usually found in young adult novels.
And check out Bridges' kicks in that shot. He looks like The Dude playing Sigmund Freud. It's awesome.
What do fellow fans of the book think? Shaping up to be a good adaptation, or should it have stayed on the page?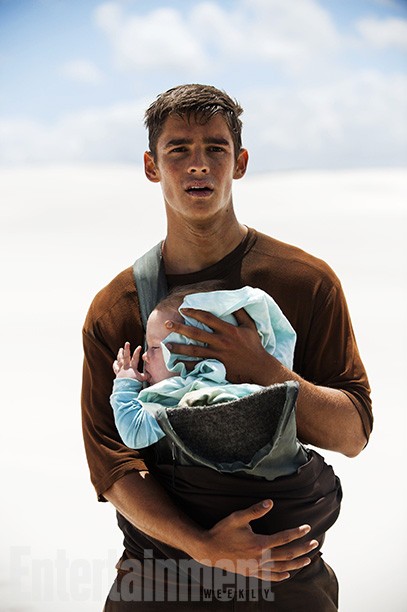 THE GIVER gives on August 15th.
-Vincent Zahedi
"Papa Vinyard"
vincentzahedi@gmail.com
Follow Me On Twitter