Papa Vinyard here, now here's a little somethin' for ya...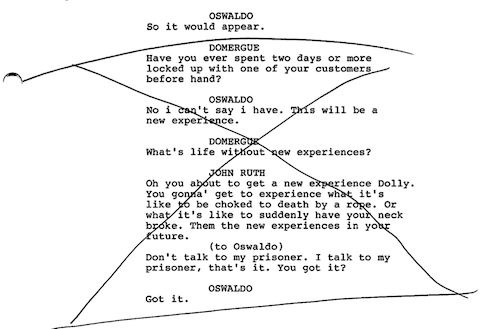 When Quentin Tarantino's THE HATEFUL EIGHT got canceled, we knew it was (reportedly) because someone leaked his first draft, meaning that the script would probably be relatively easy to get ahold of, particularly once it was evident it wasn't going to be shot. Well, The Wrap got ahold of a copy, and wrote up a bunch of details about the flick that may never come to pass, including the fact that Tarantino was planning to shoot in 70 mm (he mentioned it right there in the stage direction).
The Wrap has the story going like this:
The script is an ensemble Western with obvious parts for Madsen and Dern, as well as Tarantino stalwarts like Samuel L. Jackson and Christoph Waltz. Jackson and Madsen would likely both play bounty hunters returning human plunder to a town called Red Rock in exchange for hefty rewards. Their characters, a former major in the Union army and a man named John Ruth, dominate the first two of the script's five chapters.

They run into a Southerner named Chris Mannix on the road, and three of them, along with their driver — a living prisoner and three dead bounties strapped to the roof — arrive at a haberdashery to take shelter from an oncoming blizzard. Yet the proprietors, Minnie, Sweet Dave and her other colleagues, are nowhere to be found. In their place are four men, a Southern general (likely Dern), an alleged hangman, a Frenchman named Bob and a cowboy named Joe Gage.

Mistrust, coffee and violence ensue.
They go on to say that most of the film took place in the stagecoach and the haberdashery, reducing the scope significantly from DJANGO UNCHAINED, despite the intention to shoot 70 mm. Hearing that synopsis and reading the sample of dialogue above, I just feel more bummed that this movie isn't being made right now as we sit. Bruce Dern as a vengeful Confederate general co-starring with Samuel L. and Madsen as bounty hunters (no confirmation on Tim Roth's intended role, maybe as the Frenchman named Bob) in a Tarantino western? It really does sound too good to be true. And it was.
We will see if QT's plans to publish the script pan out in the immediate future, or if he'll simply come back to this movie in years to come, but this gives us an idea of what to expect if either of those actually happens.
-Vincent Zahedi
"Papa Vinyard"
vincentzahedi@gmail.com
Follow Me On Twitter