Hey guys! Horrorella here...
OCULUS is a film that is high on my Excitement List for the coming year. Director Mike Flanagan floored me with his 2011 film ABSENTIA, as well as the short film on which OCULUS is based. I am really looking forward to seeing what he can do when he expands the concept and is working with a bigger budget.
The film stars Karen Gillan (DOCTOR WHO) and Brendan Thwaites (MALEFICENT) as a pair of siblings whose parents were killed by a malevolent spiritual force unleashed by an antique mirror. Now, as adults, they look to track down the mirror and destroy the supernatural entity tied to it.
Bloody Disgusting has premiered the first poster for the film, which is due out on April 11th. OCULUS was very well-received when it played the Toronto International Film Festival last year, and it sounds like it is definitely one that should be on your radar.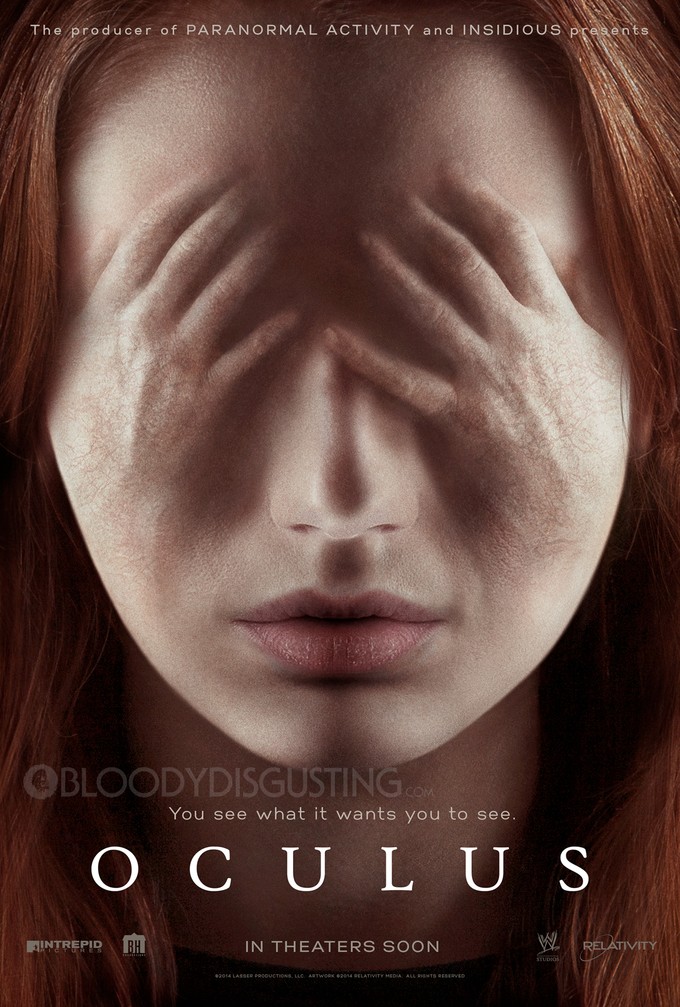 Ten years ago, tragedy struck the Russell family, leaving the lives of teenage siblings Tim and Kaylie forever changed when Tim was convicted of the brutal murder of their parents. Now in his 20s, Tim is newly released from protective custody and only wants to move on with his life; but Kaylie, still haunted by that fateful night, is convinced her parents' deaths were caused by something else altogether: a malevolent supernatural force­­ unleashed through the Lasser Glass, an antique mirror in their childhood home. Determined to prove Tim's innocence, Kaylie tracks down the mirror, only to learn similar deaths have befallen previous owners over the past century. With the mysterious entity now back in their hands, Tim and Kaylie soon find their hold on reality shattered by terrifying hallucinations, and realize, too late, that their childhood nightmare is beginning again…