Papa Vinyard here, now here's a little somethin' for ya..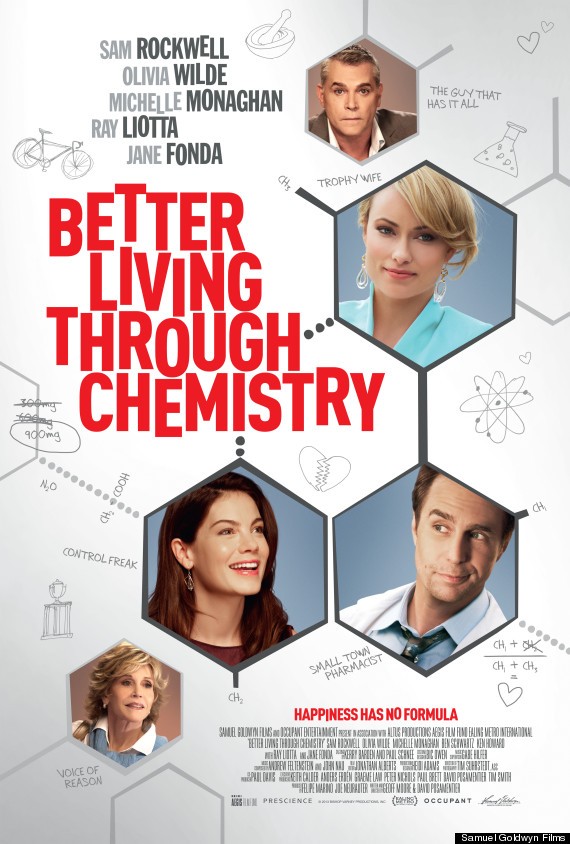 Even when the movie's not that great, it's always fun to see Sam Rockwell do his thing, especially when he has something juicy to chew on (even when he doesn't, he can usually do something with it). This trailer for BETTER LIVING THROUGH CHEMISTRY certainly makes it seem like Rockwell's character undergoes some emotional and lifestyle changes in the movie, as he transforms from insufferably browbeaten straight-arrow pharmacist to a pill-popping, job-abusing potential murderer. He looks like he's cutting loose in straight comedy mode, Olivia Wilde always has tons of fun in these vampy, man-eater roles (love her conniving stripper in BUTTER), and the supporting cast has some awesome talents like Ray Liotta, Ben Schwartz, and Jane Fonda. Writer/directors Geoff Moore and David Posamentier are first-timers, but this trailer and the cast they've rounded up certainly have my attention.
I'm interested to see how the noir and comedy elements match up in the final film. Guess we'll wait and see what time it is when folks start seeing this movie over the next couple months.
BETTER LIVING THROUGH CHEMISTRY begins on March 14th.
-Vincent Zahedi
"Papa Vinyard"
vincentzahedi@gmail.com
Follow Me On Twitter