Papa Vinyard here, now here's a little somethin' for ya...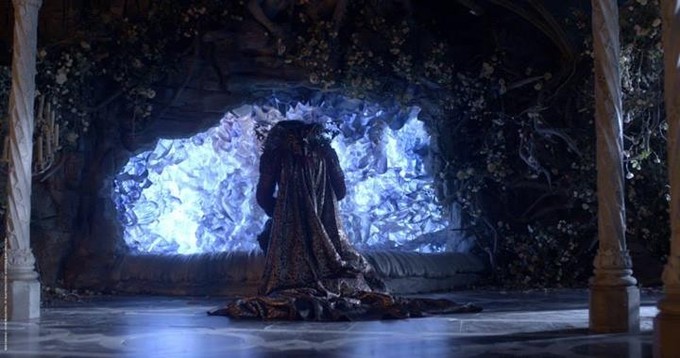 I don't understand 2 words of what anyone is saying (although Vincent Cassel is so badass he makes me want to learn French), but this featurette shows some previously unseen footage from Christophe Gans' LA BELLE ET LA BETE, including our best look at the titular Beast thus far (including the film's trailer). I'm a big fan of Gans' work (including the bizarre, underrated CRYING FREEMAN), and this looks to be his largest-scaled project yet, so I'm fascinated to see what he does with such a grandiose production of this well-known story. More than that, I can't wait to see what Cassel does behind that makeup, although as we see here, his face will also make an appearance.
I could make out the words "Jean Cocteau" being mentioned, and it seems like this is on the flipside of MALEFICENT, eschewing the title's Disney associations for something more akin to Cocteau's 1946 film. This is looking serious, operatic, and surprisingly adult (maybe a tad unsurprising, given Gans' filmography). On top of that, this is our first Gans film in 8 years (since SILENT HILL), so for fans of his work, this is something of a must-see, regardless of one's feelings towards the source material.
What're your thoughts on what we've seen of this BEAUTY AND THE BEAST update thus far?
LA BELLE ET LA BETE will fall in love in France on February 12th. No word on a U.S. release date just yet, but hopefully it will arrive here sooner than later, and intact (not butchered).
-Vincent Zahedi
"Papa Vinyard"
vincentzahedi@gmail.com
Follow Me On Twitter