Glen here…
…returning to our traditional Docback formula after taking a few weeks off to accommodate SHERLOCK S3.
COMING SOON: A RATHER INTERESTING DOCUMENTARY ABOUT DOCTOR WHO FANDOM
I've seen the whole of this film, and while imperfect, it's quite interesting and very smartly made in a number of regards. I don't want to gloss over it herein, so I'll be devoting a special mini-Docback to it next week and tell you more about it. I'll also give you a follow-up reminder when it's officially issued on 27 January, as I think this is a title many Docbackers will respond to favorably.
Until there, here's a press release for the project…
=================
FOR IMMEDIATE RELEASE
New documentary takes a look at the changing face of Doctor Who fans
In 2013, millions of Doctor Who fans around the world celebrated the series' 50th anniversary. Were you one of them?
LONDON, UK, 15 JANUARY 2014 - Capital City Entertainment, a London based film and theatre production company, has today announced plans to release on DVD and VOD on 27 January 2014, Who's Changing: An Adventure In Time With Fans, a new documentary about the changing face of fandom of the world's longest running science fiction series, Doctor Who, featuring new and exclusive interviews with many stars from the show past and present.
From the first ever Doctor Who convention, through the wilderness years and to cosplayers at the conventions of today, Who's Changing looks at how and why the nature of Doctor Who's fans changed as mainstream interest in the show took hold.
Who's Changing features interviews with many familiar faces from the show such as Louise Jameson (Leela), Sophie Aldred (Ace), Simon Fisher-Becker (Dorium Maldovar), Neve McIntosh (Madame Vastra), Catrin Stewart (Jenny Flint), Caitlin Blackwood (Amelia Pond), Dan Starkey (Commander Strax) as well as faces from behind the scenes such as script editors Gary Russell and Eric Saward and scriptwriters Andrew Smith (Doctor Who, Full Circle), Jane Espenson (Torchwood: Miracle Day, Buffy, Battlestar Galactica) and James Moran (Doctor Who, The Fires of Pompeii).
Plus, from the world of comic books, Who's Changing also features Tony Lee, Simon Furman, Dan Slott, Richard Dinnick, Richard Starkings and Josh Adams.
The film was shot over many months in 2013, the year of Doctor Who's 50th anniversary, at events around the UK such as MCM Comic Con, London Super Comic Con and the Doctor Who conventions, Big Blue Box 2 and Return to the 11th Hour. The filmmakers also filmed many fans in some incredible Doctor Who inspired costumes at these events.
Director Cameron K. McEwan says: "I've loved Doctor Who all my life and some of my earliest memories are of Doctor Who, and it was great to meet and interview so many people who felt the same. From actors to writers to fans, the love for the show comes over in abundance. It's an amazing journey from the start of fandom to where it is now - a genuinely fascinating story from hugely entertaining characters."
The DVD release also includes exclusive DVD-only extras with extended interviews with Louise Jameson, Sophie Aldred, Neve McIntosh, Simon Fisher-Becker and Dan Starkey.
Who's Changing will be available to buy on DVD from Amazon as well as specialist cult TV and sci-fi retailers such as Forbidden Planet, Galaxy 4, The Who Shop, StarTrader, The Cinema Store and WhoOne, priced at £12.99 RRP as well as being available to stream online on VOD from the official website at FROM priced at £.3.49.
Who's Changing: An Adventure In Time With Fans is a production of Capital City Entertainment in association with Early Train Productions. Directed by Cameron K. McEwan and produced by Elisar Cabrera, Cameron K. McEwan and Jack Ayers.
About the DVD Release:
Release Date: 27 January 2014
RRP: £12.99 ($21.00 / €15.50)
Rating: Exempt
DVD Region: Region 0 (All Regions)
Film Running Time: 81 mins
DVD Extras Running Time: 82 mins
About the VOD Release:
Release Date: 27 January 2014
Price: £3.49 ($5.70 / €4.20)
VOD Availability: Worldwide
Film Running Time: 81 mins
VOD Website: http://www.whoschanging.co.uk
About the Director:
Cameron K. McEwan is the author of the book "The Who's Who of Doctor Who," published by Race Point Publishing, and is the creator of the popular Doctor Who website, Blogtor Who (www.blogtorwho.com). He frequently appears on TV and radio as an expert on Doctor Who and other television shows
=================
FROM EARLIER THIS WEEK: BEHIND THE SCENES PHOTOS OF CAPALDI FILMING SEASON/SERIES 8
Via THIS Flickr stream and THIS report at DoctorWHoTV comes new Behind The Scenes images and video of Peter Capalid filming his first episode as the Doctor.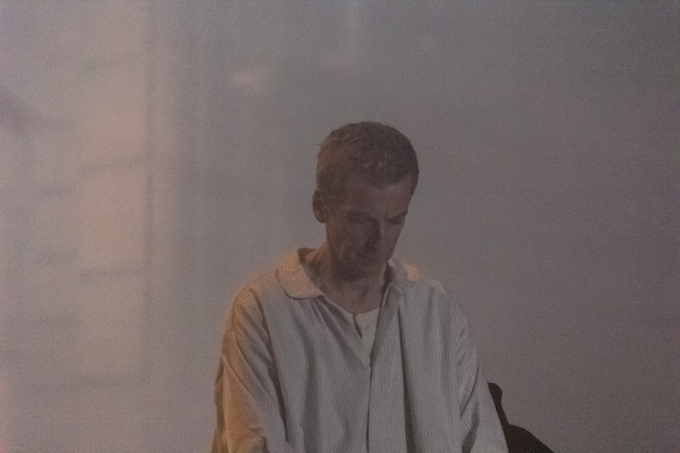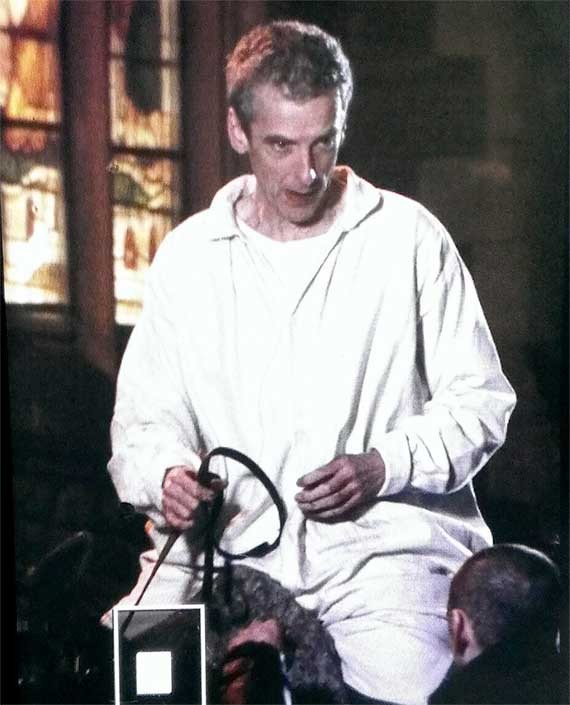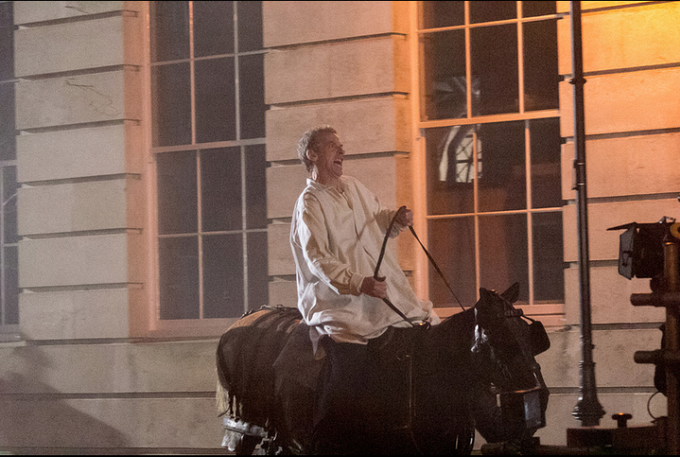 These images don't do a great deal to suggest the edgier, more 'kick-in-the-arse' Doctor we've recently been hearing about - but to be completely fair, we have no context for the sequence being filmed…so we can not fairly judge until we see this in full.
It should be noted that Capaldi apparently 'reassured fans this was not his costume.' Season/Series 8 of DOCTOR WHO begins…who the hell knows?
BEHOLD THE STRANGE WONDER OF ROMEO AND WHOLIET
Beyond the Marquee's diminutive but awesome Lindalee met with Don Starkey (so very magnificent as Strax in current WHO). The product of their encounter?
ANIMATED CLIP FROM 'THE MOONBASE' (Troughton, Story #33) RELEASED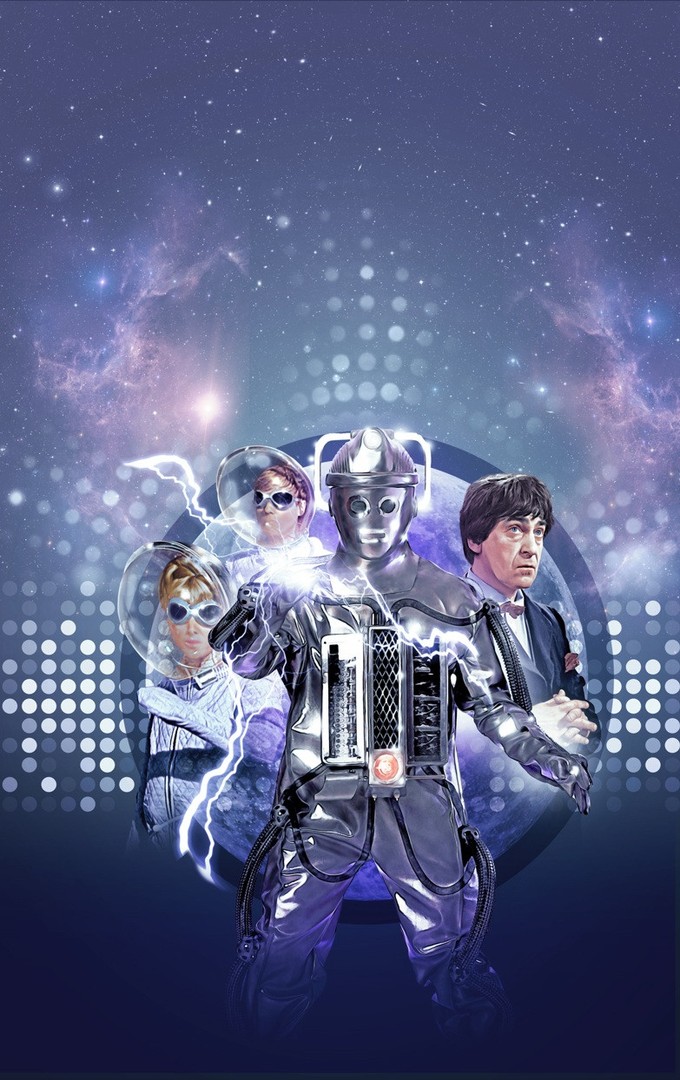 BBC Worldwide's DoctorWhoTV site has issued a short sequence from their upcoming release of The Moonbase. This is one of those stories from which some material is missing due to BBC's policy of purging recordings back in the day - missing parts are now being completed with animation, a practice previously employed on the DVD releases of several DW tales.
The Moonbase releases on DVD February 11 in the States and is up for preorder HERE. It'll hit DVD next week in the UK and can be found HERE. i'm a sucker for stories set on moonbases. I don't know why, because often…they're not very interesting. Nonetheless, I'm looking forward to this one.
HORNORSILK REVIEWS THE 'AFTERLIFE' BIG FINISH AUDIO
=================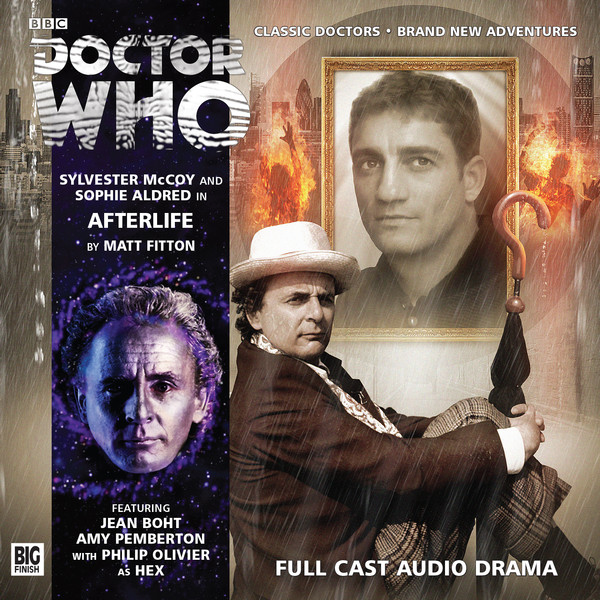 Big Finish 181 – Afterlife
By: Matt Fitton
As with many BF audios, it is difficult to discuss this without giving some story spoilers. While I will try to avoid most of them, to give an honest review of this story, I have to reveal a bit of the "surprises" in the plot. You have been warned.
Hex is dead, and Ace is angry with the Doctor. She forces the Doctor to do something he does not want to do: face the consequence of his actions. She feels the Doctor needs to feel the effects of the death of Hex. She places demands upon the Doctor: he sends out a letter Hex had written to his grandmother, and then, later, show up, meet with Hex's grandmother, and tell her of Hex's death. Of course, with the Doctor, this is a one-two punch, because of what previously happened to Hex's mother (who he was not able to save).
With the Doctor meeting with Hex's grandmother, and arranging a ceremony to remember Hex, Ace finds herself in the middle of a gang war. But that war is not what it seems to be. Somehow, the leader of one side appears to be Hex, however, a Hex who does not know her or the Doctor. He also does not call himself Hex, just Hector. And he seems a little bit a creep.
Once again, proceed at your own risk.
There be more spoilers below.
So you have been warned.
Obviously, it is Hex, but he has been changed. He has been brought back to life, based in part, on the ending of Gods and Monsters. That ending, which seemed to foreshadow one way the story would be continued, did not take place here; Hex is not (as far as we know) Fenric. Somehow, he bet his way back to life. Or perhaps, it is better to say, he was given a half-life. Much of who he is, has been lost to him, and there are all kinds of restrictions to this new life. Ace suspects it is Hex, and thinks there must be a way she can bring his memories back. She wants to do it. She needs to do it. But can she?
I am rather disappointed they went this route with Hex. I felt it best if he stayed dead, or, they did what they hinted and had him come back as Fenric, now wanting to play a new "game" against the Doctor.
The spoilers are now over.
You can read on.
The spoilers are above, not below.
As usual, Sylvester does an excellent job with this story. I find his part of the tale the most enjoyable, and if it had stayed focus with that, where the Doctor ended up having to tell Hex's grandmother all he knows of her family, that would have been excellent. It would have been somewhat soapish, but, at times, that works for Doctor Who, and it would have here. We have, after all, others who knew Hex show up and help the Doctor and his grandmother deal with Hex's death. But she deserved to know what the Doctor really was up about, and how heroic Hex was at the end. She also deserved to know of her daughter: perhaps she will be told, once the Doctor is gone, but it would have been best to show how the Doctor manages to deal with the after-effects of his cosmic manipulations. It could easily have foreshadowed aspects of the new series, without touching it.
I was not so fond of the Ace side-story. Sophie Aldred has done better in other audios than in this one; so many scenes just feel cheesy, especially for Ace at this stage of life. And yet, this story is not yet over. We have been seeing this story going on for sometime. I think we might see the stage set for Ace's departure. If so, then, get on with it. It will be nice for some closure there.
All in all, this is not a bad audio, but it is not extraordinary. I give it a solid 7/10, which I give for audios I believe are good but without the something special I look for in an audio to make it excellent. This Doctor's story was necessary after Gods and Monsters, but, what was done with Ace just feels a bit cheap so far. Hopefully they have something good planned.
— HornOrSilk
=================
—————-
Glen Oliver
"Merrick"
- e-mail
- Twitter
- Google +
DOCBACK CODE OF CONDUCT
1) a Docback should be about completely open and free discourse regarding all things WHO with, obviously, some variation on subject matter from time to time - the real world intervenes, discussions of other shows are inevitable, etc.)...
2) converse, agree, disagree, and question as much as you want - but the freedom to do so is NOT a license to be rude, crass, disrespectful, or uncivilized in any way. Not remaining courteous and civil, as well as TROLLING or undertaking sensational efforts to ignite controversy, will result in banning. Lack of courtesy may receive one (1) warning before a ban is instigated. Obvious Trolling or Spamming will result in summary banning with no warning.