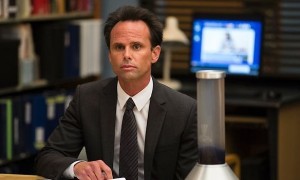 Tongight's "Community," titled "Cooperative Polygraphy," stars Walton Goggins but pays tribute to Pierce Hawthorne. There's a hilarious recurring sight-gag that likely utilized a lot of dry ice. (8pm NBC)
Premiering or returning tonight:
Brian Boitano Project (11pm HGTV)
Crazy Hearts (10pm A&E)
Fantasy Factory (11pm MTV)
Here Comes Honey Boo Boo (9pm TLC)
Jerks With Cameras (10:30pm MTV)
Party Down South (10pm CMT)
SWV Reunited (10pm WE)
Tabloid (10pm ID)
Under The Gunn (9pm Lifetime)
Welcome to Myrtle Manor (10pm TLC)
"Big Bang Theory" hit its best number since its 5.8 season premiere. This was enormously helpful to the rest of the Thursday CBS schedule.
Despite CBS's big night, "Parks and Recreation" returned with a 1.5, solidifying its status as NBC's top sitcom. Its return probably helped "Community" improve on its previous week's score.
"The Assets," filling in for ABC's "Scandal," was cancelled after two episodes.
Thursdays, Nov. 21-Jan. 9, 2014
(18-49 finals; repeats in grey; prior weeks in parentheses)
5.7 (5.3) (2.6) (2.8) (5.1) (4.8) (3.3) (5.3) Big Bang Theory
3.3 (2.9) (1.2) (1.7) (2.6) (2.4) (---) (2.8) The Millers
2.4 (2.0) (---) (1.3) (1.9) (2.1) (1.4) (2.2) The Crazy Ones
2.4 (2.1) (---) (1.3) (1.9) (2.3) (---) (2.1) 2½ Men
2.0 (1.8) (0.9) (0.9) (1.7) (1.8) (1.0) (1.8) Elementary
1.5 (---) (---) (---) (---) (---) (---) (---) Parks And Rec
1.4 (1.3) (---) (---) (---) (---) (---) (---) Community
1.4 (1.3) (1.1) (1.5) (1.2) (1.0) (---) (1.1) Pawn Stars
1.3 (1.3) (---) (---) (1.2) (---) (---) (1.2) Parenthood
1.3 (1.2) (---) (---) (---) (---) (---) (---) The Taste
1.2 (---) (0.6) (0.9) (0.6) (0.9) (---) (0.7) NBA Basketball
1.0 (0.8) (---) (---) (0.9) (---) (---) (0.9) Michael J. Fox Show
1.0 (0.8) (---) (---) (1.0) (---) (---) (0.9) Sean Saves The World
0.8 (---) (---) (---) (---) (---) (---) (---) Appalachian Outlaws
0.8 (---) (---) (---) (---) (---) (---) (---) White Collar
0.7 (0.7) (---) (0.8) (0.7) (0.6) (0.5) (0.7) Eagleheart
0.7 (0.8) (0.7) (0.9) (0.7) (0.6) (---) (0.6) Ground Floor
0.7 (---) (---) (---) (---) (---) (---) (---) Impractical Jokers
0.7 (0.7) (0.5) (0.6) (0.5) (0.7) (---) (---) Mob Wives
0.7 (---) (---) (---) (---) (---) (---) (---) Ridiculousness
0.7 (0.6) (---) (---) (---) (---) (---) (---) Sleepy Hollow
0.6 (0.7) (---) (---) (---) (---) (---) (---) The Assets
0.6 (---) (---) (0.8) (0.5) (0.4) (---) (0.5) Braxton Values
0.6 (---) (---) (1.0) (0.5) (0.5) (---) (0.7) The Daily Show
0.6 (---) (0.6) (---) (---) (0.5) (---) (---) Gypsy Sisters
0.6 (0.6) (0.4) (0.6) (---) (0.4) (---) (---) Millionaire Matchmaker
0.6 (---) (---) (0.6) (0.5) (0.4) (---) (0.6) Project Runway
0.5 (---) (---) (---) (---) (---) (---) (---) Chopped
0.5 (---) (---) (0.5) (---) (---) (---) (---) Conan
0.5 (0.5) (---) (---) (0.5) (0.4) (0.4) (0.5) Eric Andre Show
0.5 (---) (0.4) (0.5) (0.4) (0.4) (---) (0.4) Impact Wrestling
0.4 (---) (---) (0.8) (0.5) (0.5) (---) (0.6) Colbert Report
0.4 (0.3) (0.3) (0.2) (1.1) (1.0) (---) (1.3) Vampire Diaries
0.3 (0.2) (0.3) (0.3) (0.6) (0.6) (---) (0.7) Reign