Papa Vinyard here, now here's a little somethin' for ya...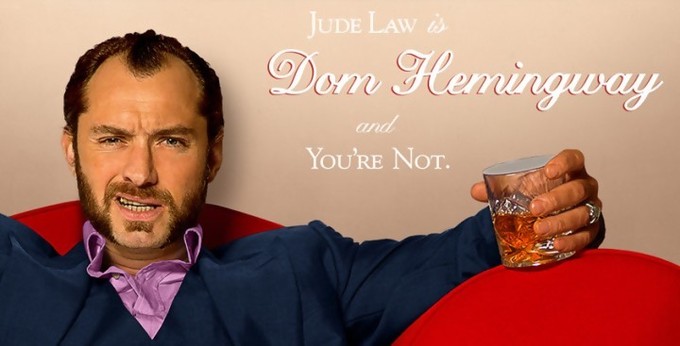 That Jude-Law-as-a-grimy-safecracker flick DOM HEMINGWAY is finally making its way stateside after premiering in Britain a few months ago, and we have what may be the last trailer for the film that we're gonna see. What separates this trailer from the first two we've posted is a downplay of Dom's violent hedonism, and a heightened emphasis on his relationship with his estranged daughter, played by Khaleesi Daenerys Targaryen herself, Emilia Clarke. Whether this is to soften the edges on what's possibly Law's most nasty, unlikable character to date or to highlight the presence of the megapopular GAME OF THRONES actress, I have no idea.
What I do know is that the mixed reviews the film got out of the U.K. don't phase me not a hitch. I wanna see Jude get his freak on, and I want to see him do it alongside actors on the level of Clarke, Demian Bichir, and Richard E. Grant (who was awesome this week on the first two third season eps of GIRLS).
Excited to see Jude take center stage as a crazy asshole, or just to worship Khaleesi on the big screen for the first time (before she throws down as Sarah Connor)?
DOM HEMINGWAY starts a-crackin' on April 4th, 2014.
-Vincent Zahedi
"Papa Vinyard"
vincentzahedi@gmail.com
Follow Me On Twitter