Papa Vinyard here, now here's a little somethin' for ya...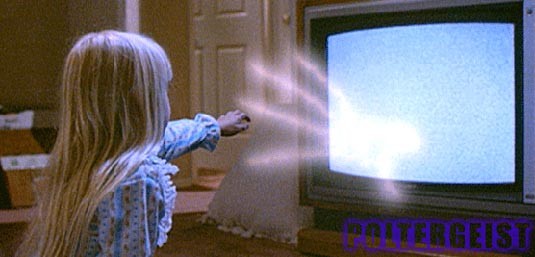 "They're baaaaaack." Fox's POLTERGEIST reboot will haunt theaters 2/13/15.

— Exhibitor Relations (@ERCboxoffice) January 15, 2014
Gil Kenan's POLTERGEIST remake is coming together, but apparently won't meet its initially announced release date of November 2014. The Exhibitor Relations Twitter account has announced that POLTERGEIST 2.0 will arrive in theaters on February 13th, 2015. That puts it against the SPONGEBOB SQUAREPANTS sequel and the FIFTY SHADES OF GREY juggernaut. That's a big weekend for the middle of February, methinks.
Most interestingly, however, is that the found-footage AMITYVILLE HORROR remake is scheduled for about a month and a half prior on January 2nd. I know they are completely different incarnations of their respective source material, but really? This is how it works now? AMITYVILLE and POLTERGEIST within a month and a half of each other NOT around Halloween? I mean, disregard the potential market overlap between the two movies, but they were competitors as like the haunted house movies of the late-'70s/early-'80s. Funny that they'd both be getting remakes in 2015 (even though it's probably THE CONJURING that created momentum for both projects), but within a little more than a month of each other? There's something iffy about that. Wouldn't be surprised for one of them to flinch and change release dates.
Either way, we now have a definite idea of when to expect Gil Kenan's remake. What sounds more interesting, his POLTERGEIST or a found-footage AMITYVILLE HORROR entry? <p POLTERGEIST arrives in Cuesta Verde on February 15th, 2015.
-Vincent Zahedi
"Papa Vinyard"
vincentzahedi@gmail.com
Follow Me On Twitter