Hey Yo, Draven here.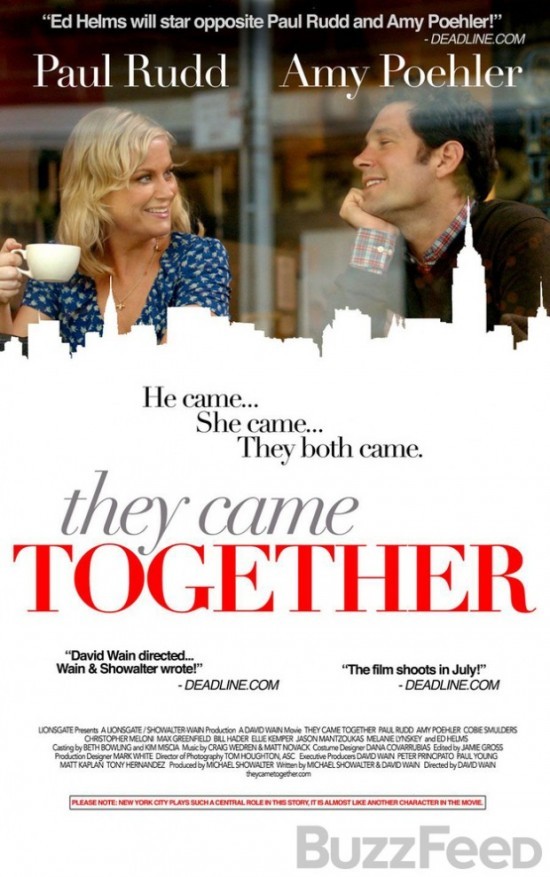 We have the first clip from David Wain's next film, THEY CAME TOGETHER starring Amy Poehler and Paul Rudd, thanks to Buzzfeed and The Film Stage:
Yes, the modern romantic comedy is an easy target but this is definitely a great clip to represent the tone and purpose of the film as they seem to fit almost every modern cliché into it. In fact, it accomplishes in 90 seconds what most romantic comedies spend 90 minutes trying to do. Not to mention a reunion of the WET HOT AMERICAN SUMMER crew so I was sold before seeing this clip and am even more now. Hopefully, we hear some good things out of Sundance.
The film premiers at Sundance later this month and Lionsgate is planning to release it to theaters later this year. Here is Sundance's synopsis:
They Came Together relates the epic love story of Joel, a corporate executive for Candy Systems and Research, a mega candy store chain, and Molly, the owner of a small sweet shop called Upper Sweet Side. When Joel is tasked with shutting down Molly's mom-and-pop operation, the unlikely lovers find themselves hurtled into a whirlwind romance. From quaint bookstores and coffee shops to neurotic family members and psychotic ex-lovers, Joel and Molly must face some harrowing obstacles on their path to true love.
Follow me on Twitter here!