Hey Yo, Draven here.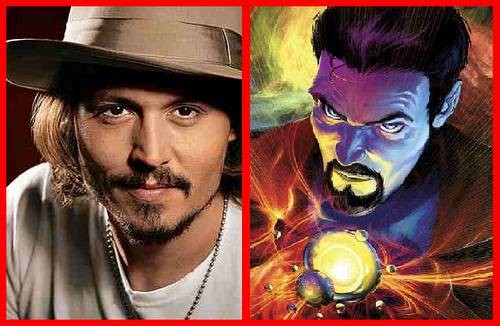 As Marvel begins really developing it's Phase 3 films (that begin after THE AVENGERS: AGE OF ULTRON) we are going to hear a lot of rumors and announcements this year. It began earlier today with Marvel's official announcement that Michael Douglas is going to be playing Hank Pym in ANT-MAN. That is the first and only announced film so far for Phase 3, but we know a DOCTOR STRANGE film is on the way and is a priority to Marvel.
Now, comes a new rumor from Latino Review that reports Johnny Depp has met with Marvel about the role of Doctor Stephen Strange. This would make business sense as there is a big void that will be left behind (both salary and box office wise) now that Robert Downey Jr. is rumored to be done with solo IRON MAN films. Johnny Depp is an "A-list" celebrity with a lot of box office success (especially internationally).
There were rumors swirling that Depp had met with Marvel to provide the voice of Rocket Raccoon and he still reportedly has a very good relationship with Disney. On the other hand, DOCTOR STRANGE is rumored to be on the cards for 2016 as is PIRATES OF THE CARRIBBEAN: DEAD MEN TELL NO TALES so scheduling might be an issue. Disney owns both properties though, so win/win either way for them.
Creatively, I don't like the casting. Depp seems like too obvious or safe of a pick. I was hoping for a Timothy Olyphant-type actor that would be a little bit of a risk but would have high rewards if it worked (like we are getting with Paul Rudd in ANT-MAN). It is just a meeting though and I am sure Marvel is considering many actors for the role and the odds of this even happening are probably small. It is a possibility though so let us know what you think of it.
Follow me on Twitter here!