Papa Vinyard here, now here's a little somethin' for ya...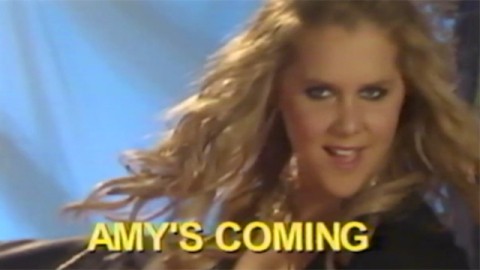 Remember TRAINWRECK, that Amy Schumer-led comedy that Judd Apatow is lined up to direct? Universal has announced a release date for the film, and it's…fairly ballsy, methinks.
TRAINWRECK will drop in wide release on July 24th, 2015. As we all know, Summer '15 is looking like a battleground for tentpole releases, but here's some further perspective; the week before TRAINWRECK releases, Warner Bros. will be unleashing a movie that, while we don't know what it's called yet, will prominently feature its two biggest comic book properties going head to head onscreen for the first time (care to guess?). The week after TRAINWRECK debuts, we get another massive superhero tentpole. This one? Marvel. And. Edgar. Wright's. ANT-MAN. Starring. Paul. Rudd.
In the cadence of Amy Schumer, I dare to say that Universal and Apatow are going balls-deep on this one.
Schumer is completely untested as a film heroine, even though her show slayed it, ratings-wise, on Comedy Central last year. I'd even say her popularity and experience, at this point, pales in comparison to Kristen Wiig's circa-early 2011, when BRIDESMAIDS made a play for summer season loot by opening in May. Plopping TRAINWRECK smack-dab in the middle of BATMAN VS. SUPERMAN and ANT-MAN shows a remarkable level of confidence in both Schumer's appeal and the film itself, which, because of the underperformance of both FUNNY PEOPLE and THIS IS 40, doesn't get any brownie points from Apatow's recent box-office tallies.
Needless to say, they're going for a slightly different (and slightly, but not entirely, more female) crowd than those four-quadrant behemoths, so hopefully, TRAINWRECK will counter-program quite nicely the same way BRIDESMAIDS happily propsered in the week between THOR and PIRATES OF THE CARRIBBEAN: ON STRANGER TIDES. I'd love it if Amy Schumer's cynicism-through-a-smile screen presence translated seamlessly to films, and that we'd have a comedienne with her level of identifiability and razor-sharp perception leading major comedies.
But Judd? Buddy? I don't think this one needs to be three hours long. Jus' sayin.
TRAINWRECK shows up on July 24th, 2015.
-Vincent Zahedi
"Papa Vinyard"
vincentzahedi@gmail.com
Follow Me On Twitter