BBC has issued a look at Peter Capaldi on the set of DOCTOR WHO - for his first full day of filming in the coveted and legendary leading role.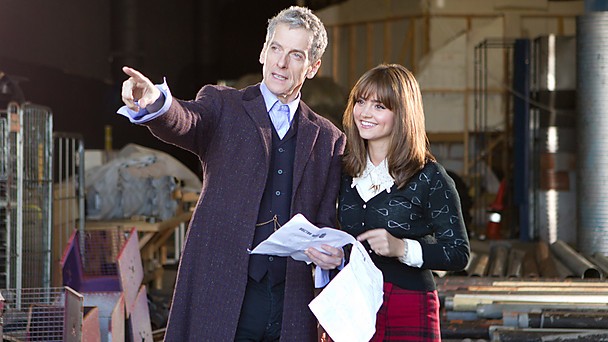 NOTE that Capaldi is, in this show, wearing the same clothes we saw him in when he regenerated from Matt Smith in the 2013 Christmas Special. Which were, logically and of course, the same clothes Smith was wearing during the transformation.
I'm presuming this isn't meant to infer Capaldi will be donning the same garb as Smith he moves into his first Season/Series. Rather, this is more likely a 'picking up where we left off…' moment. Can't wait to see what outfit Capaldi's Doctor ultimately wears (although he looks pretty amazing in Smith's outfit, frankly). My personal preference would be to go an unexpected direction. We've had funky Doctor outfits, we've had more casual Doctor outfits, maybe Capaldi's Doctor needs to wear ultra-nice suits like James Bond…or something? Crisp. Formal. Intimidating. Perhaps this could be an obsession point for him - boring Clara into a stupor?
It's hard to guess what direction Capalidi's costume will go given we know so little about his personification as the Doctor, although we'll be gleaning a bit more from promo images which'll be coming around in the not too distant future (I should think).
—————-
Glen Oliver
"Merrick"
- e-mail
- Twitter
- Google +