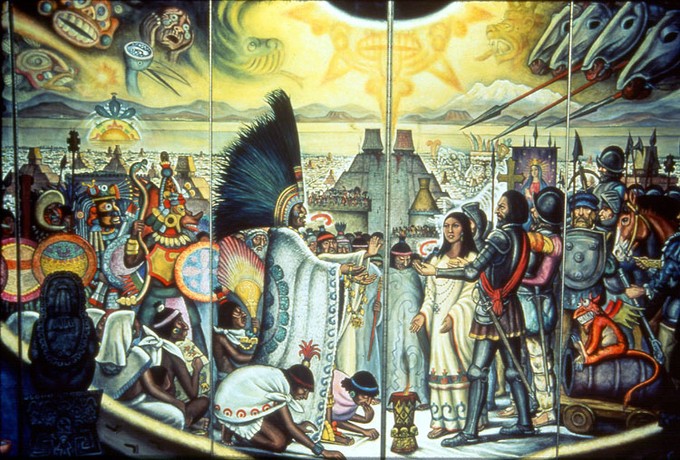 Deadline says Steven Spielberg may be ramping up to tackle an ambitious portrait of Montezuma and Cortes. The title of the project is currently MONTEZUMA (one of a number of spellings of his name, by the way), although Deadline indicates this might be changed to CORTES (which can also be spelled with a 'Z') to better reflect the viewpoint from which the real-world story is told. Given the gravity of this encounter, I wouldn't be surprised if an altogether more symbolic / dramatic title was ultimately decided upon.
I've heard that Javier Bardem has sparked to playing the Spanish explorer Hernando Cortez, and that the catalyst here is a nearly 50-year old script by Dalton Trumbo that is being rewritten by Steve Zaillian, who teamed with Spielberg on the Oscar-winning Schindler's List.
…says THIS piece. Zaillian recently scripted Ridley Scott's Christian Bale starring EXODUS - and wrote MONEYBALL, AMERICAN GANGSTER, and wrote/Exec Produced the David Fincher-helmed adaptation of THE GIRL WITH THE DRAGON TATOO.
At this point it's unclear whether MONTEZUMA/CORTEZ will focus on only a portion of the complex interaction between Cortez and the legendary Aztec ruler (i.e. a snippet of time, a-la Spielberg's recent LINCOLN) - or whether their tale will embrace the grand scale of the saga…a tragic circumstance which included no small amount of tension and maneuvering, ultimately leading to the downfall of the Aztec empire.
Although this may not necessarily be Spielberg's next project, it'll be very interesting to see how this one shakes out…
—————-
Glen Oliver
"Merrick"
- e-mail
- Twitter
- Google +