'Tis somehow appropriate that the Shane Black scripted and directed IRON MAN 3 is the most divisive film in the IM series to date. It is, after all, Shane Black - and where Black is involved, a whole project becomes…I don't know…not as…easy.
Whether or not one embraces the coarser, more real world 'street' sensibilities Black brought to the cinematic IM universe in its third installment, several points stand beyond refute: 1) the film made well over $1 billion at the global box office, so something about it not only worked - but worked well; 2) my six year old son love, loves LOVES the Mark XXXVIII armor; 3) Brian Tyler's theme music is a retro, kitschy blast…
…. and 4) Ben Kingsley's Trevor Slattery/"Mandarin" character was a surprise in a number of ways. Kingsley nailed that performance and lit up the screen - even if the role represented a kick-in-the-nuts sleight-of-hand about which not all Marvel fans were wildly enthusiastic.
Some say Kingsley is the most memorable element in a film which is, in many regards, kinda nutty. Personally, I'd tend to agree with this assessment. As such, it should come as no surprise that Hot Toys…the inimitable purveyors of cool…would issue one of their expectedly stunning representations of the character.
Offering multiple layers of 'clothing,'...
...swappable 'hands,' a stand, a 'throne,' and inordinately detailed across-the-board, the Mandarin figure manages to capture the countenance of Slattery-as-Mandarin quite convincingly. The figure becomes less a replica and more of a moment whose image and vibe has been skillfully suspended in time.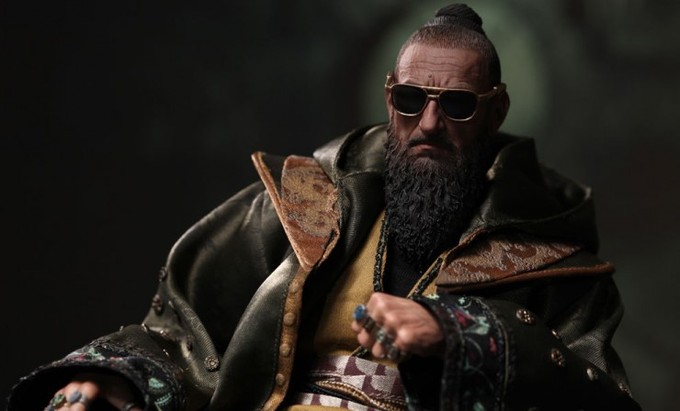 Despite all of the figure's charm and effectiveness, some collectors may struggle to come to terms with one of it qualities: that beard…is not hair, or fiber, or whatever. It's a solid construct. A deal breaker for me? Not even close, as…from a distance…it looks convincing enough and fulfills its intent quite nicely. Which is blissfully apropos in a way, as this iteration of the Mandarin character is, in the end, completely about illusion from the outset. And this figure plays its role quite nicely.
Hot Toy's IRON MAN 3 Mandarin is now available for purchase HERE. NOTE the payment plan option to the right of the page.
—————-
Glen Oliver
"Merrick"
- e-mail
- Twitter
- Google +