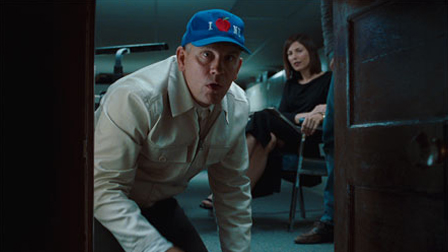 I'm an avid collector of Blu-rays and a subscriber to Netflix. I confess if I see a movie go to a deeper discount on Amazon, I will –- before I click that "buy" trigger -- check Netflix to see if it's already available there.
But you can't rely on Netflix to keep the movies forever.
Sometimes the titles on Netflix go away, and a whole bunch are apparently going away tomorrow, Jan. 1.
Vulture helpfully compiled these, and I helpfully put them in alphabetical order:

The Andromeda Strain
As Good as It Gets
Back to School
Being John Malkovich
The Best Little Whorehouse in Texas
Biloxi Blues
Body of Evidence
Born on the Fourth of July
Braveheart
Breakin' 2: Electric Boogaloo
Brick
Can't Hardly Wait
Capote
Cold Comfort Farm
Dark Shadows (TV series-all seasons)
Desperado
Do the Right Thing
Dressed to Kill
Elizabethtown
Eternal Sunshine of the Spotless Mind
The Faculty
Far From Heaven
50 First Dates
Flashdance
For the Love of the Game
1492: Conquest of Paradise
Foxy Brown
F/X 2
Gallipoli
The Great Train Robbery
Half-Baked
Hard Target
Heaven's Gate
High Art
I'm Gonna Git You Sucka
An Inconvenient Truth
In Like Flint
In the Name of the Father
Inside Deep Throat
Intolerable Cruelty
Jarhead
Jude
The Kids in the Hall (all seasons)
Killer Klowns From Outer Space
The Long Goodbye
Man on the Moon
The Mask of Zorro
Miller's Crossing
Ned Kelly
Not Without My Daughter
October Sky
The Odd Couple
Of Mice and Men
Once Upon a Time in Mexico
Platoon
The Private Life of Sherlock Holmes
Pumpkinhead
Remo Williams
Requiem for a Dream
Rob Roy
Roman Holiday
Romeo and Juliet (1968 version)
The Russia House
Saturday Night Live: The 2000s
Scary Movie
The Secret of Nimh
Seed of Chucky
Serpico
Session 9
A Shot in the Dark
The Skulls
Species
Species II
Stop! Or My Mom Will Shoot
Street Fighter
Tales From The Crypt: Bordello Of Blood
Tales From The Crypt: Demon Knight
Talk Radio
Titanic
Top Gun
Troll 2
True Grit (John Wayne version)
War and Peace
War Games
We Were Soldiers
What Dreams May Come
Windtalkers
The Woman in Red
World Trade Center
The Young Girls of Rochefort
So you might want to watch some of these as you await the stroke of midnight.
BUT -- know lot of these titled could come back, as explained by the Vulture story found here.