Hey Yo, Draven here.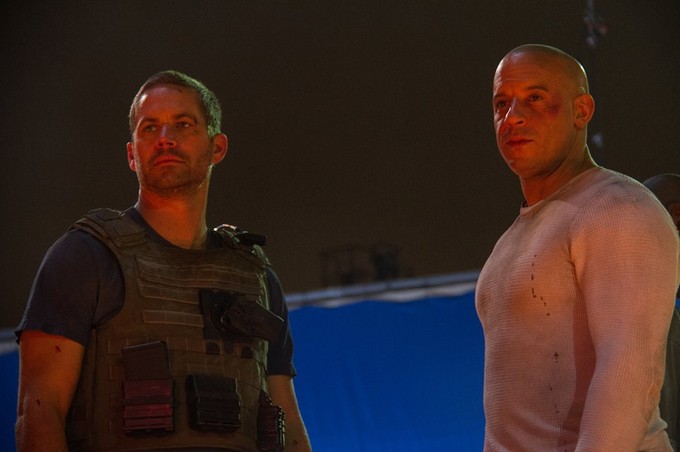 After Paul Walker's tragic death last month, there has been a lot of speculation on what Universal was going to do with the footage that was already shot for FAST AND FURIOUS 7. It was scheduled for a July 11th, 2014 release but we all knew that was going to get delayed. Now, Vin Diesel has revealed on his Facebook page (which lives up to the hype) that FAST AND FURIOUS 7 will now be released April 10th, 2015. He posted the image above with this message:
"The last scene we filmed together…

There was a unique sense of completion, of pride we shared… in the film we were now completing… the magic captured… and, in just how far we've come…

Fast and Furious 7 will be released…

April 10th 2015!

P.s. He'd want you to know first…"
I think this would mean that Universal now has a good idea of what they are going to do with the film. The assumption would be that with less than a year on the delay that would mean they wouldn't be starting from scratch and might have found a way to re-work Walker's footage into the final film. However, Devin Faraci over at Badass Digest added the following:
"Sources tell me the reason for the delay is that the late Paul Walker was absolutely central to the story; while the character of Brian was sort of to the side of Fast 6, he's the center of 7, with a storyline that was supposed to resolve itself in Fast & Furious 8. Losing Walker means the entire story needs to be restructured, which will require a lot of work."
The rumors were that Kurt Russell was going to play Walker's father in this film and that he would ultimately be set up for a bigger role in the 8th film (presumably as the villain). Whether this is what Faraci is referring to I am not sure, but if that were the case, that would put the filmmakers in a really tough position and not just for this film but for the following one as well.
A release date is just the first step but expect more answers soon.
Follow me on Twitter here!